Bound to a wheelchair for five months after a car accident, Logan planned out his wildest quad rotor RX-7 fantasies, and then executed them perfectly. And there's not a turbo in sight…
Feature first appeared in Fast Car magazine 2021. Words: Dan Sherwood. Photos: Jeremy Bryner.
If the worldwide Pandemic taught us anything, it's that, when it comes to us petrolheads, there's no truer saying than the phrase: 'The Devil finds work for idle hands'. After all, who among us didn't start tinkering with our cars the minute we went into lockdown? Well, we didn't have much else to do. And there's only so much daytime TV you could watch or Joe Wicks' workouts you could endure. Logan Carswell is a man who knows only too well the mischief that can brew in times of forced inactivity, but he realised it way before anyone had even heard of Coronavirus.
"I was involved in a pretty serious car accident back in 2006, which destroyed my previous Mazda RX-7 and put me in the hospital," Logan remembers with a wince. "The impact had crushed both my ankles and I was wheelchair-bound for over five months while I healed."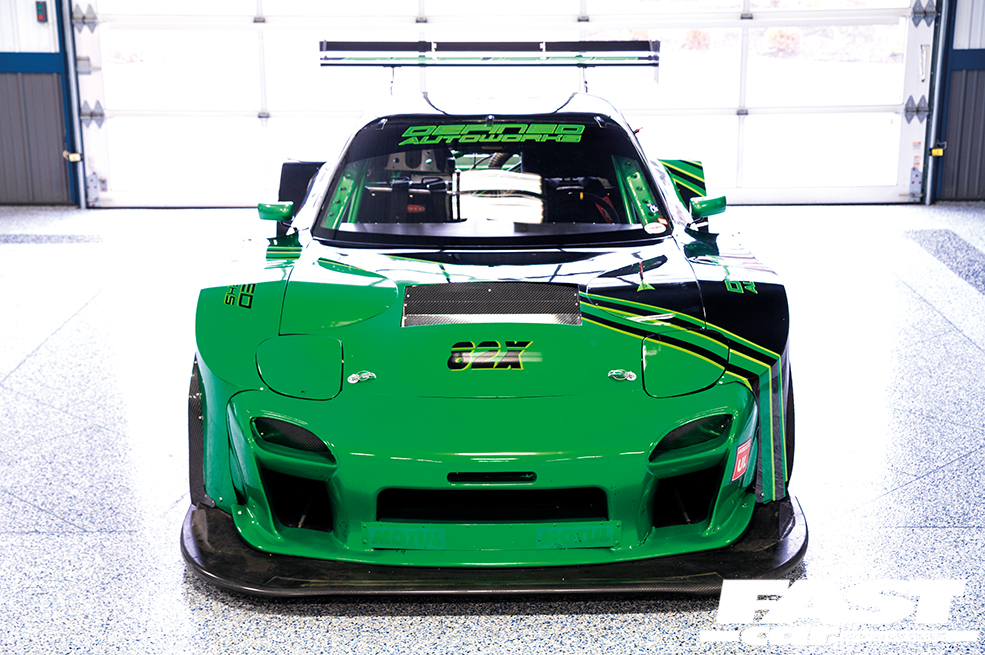 Understandably, for someone who had just cheated death and been hideously hobbled by his car, he couldn't do much of anything for a few weeks and so his mind was free to run wild with thoughts of a new Mazda build, more mental than anything he had done before. Enter his quad rotor RX-7.
Now, we should mention at this point that Logan is the bossman of Ohio-based rotary specialists Defined Autoworks, experts in servicing, tuning and racing all kinds of wankel-engined wonders. So when this mad-scientist of Mazda-dom thinks up a car of epic proportions, you can be sure that it's going to be suitably off the hook!
"I'd been playing a lot of Gran Turismo 4 while I was resting up and the RX-7 in the game inspired my plan for my ultimate RX-7," Logan explains. "It didn't happen right away, and was a slow process, but that plan and the level of specification that I had in my head is identical to how the car has turned out today. I honestly never thought I'd make it a reality, but now my dream has come true."
But what exactly is this wide and be-winged monster in black and green that you're looking at splashed across these pages? Well, it's a machine that's every bit as special as its back story suggests. A wild, stripped out and race-developed FD Mazda RX-7 with what many consider to be the holy grail of rotary engines: a naturally aspirated 2.6-litre, quad-rotor 26B, just like the one found in Mazda's own Le Mans winning 787B racecar.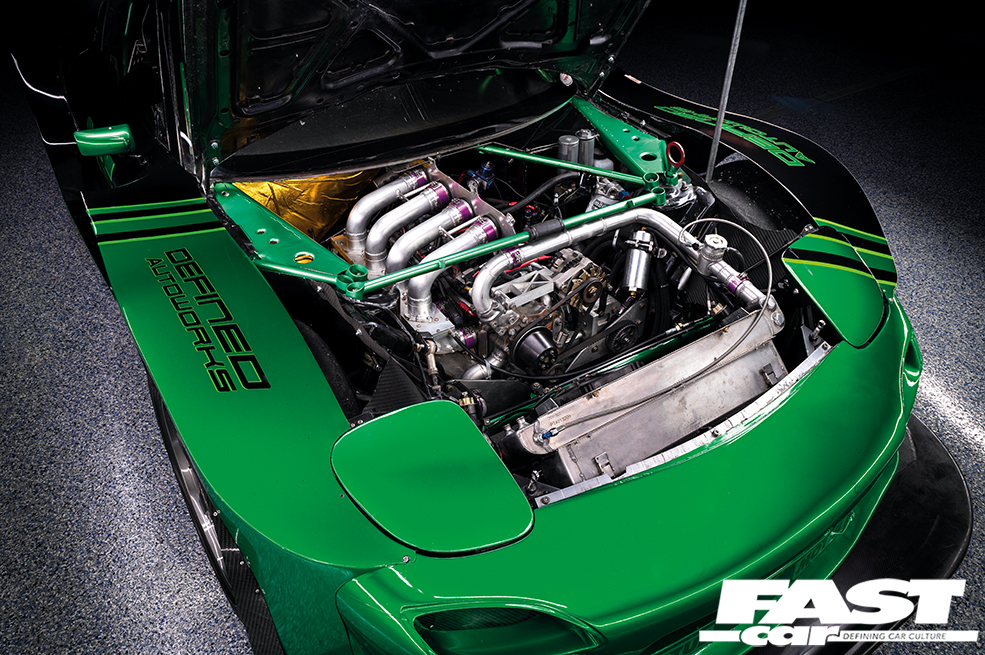 "I'd always loved racing, especially Le Mans and the Japanese GT300 and GT500 series," says Logan. "The wild cars embodied everything that I was hoping to achieve with the quad rotor RX-7."
The build itself started when Logan purchased the FD in 2007 as a $2000 rolling shell, a year on from his accident.
"The car that got wrecked had a 20B triple-rotor engine that luckily survived the impact and meant I could simply transplant it into the new shell," Logan recalls. "I then built a full custom rollcage to satisfy the regulations to take the car wheel-to-wheel racing."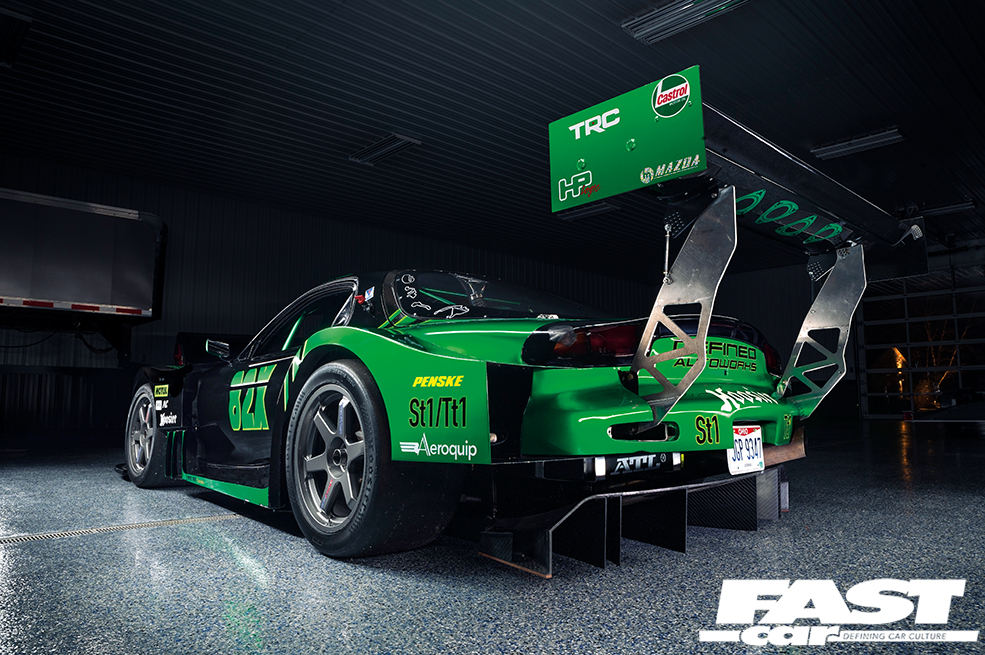 On top of the required safety upgrades, Logan also equipped the quad rotor RX-7 with lightweight fibreglass front and rear wings and wide rear arch flares, plus the transmission was beefed up with a G-Force five-speed dog 'box. Ensuring the braking system was strong enough to deal with the extra grunt and the kind of speeds that Logan was hoping to achieve on the track, the brakes were also swapped for a set of Brembo 13in discs and billet titanium calipers that came straight from the arches of a genuine NASCAR racer.
"I used the car in that general specification for a few years and made minor engine modifications along the way such as the fitment of individual throttle bodies as well as all the extensive dyno testing and development," Logan explains. "The car was great and the motor was strong, but ever since the original plan I made for the car back when I was in a wheelchair, the goal was to be running a quad-rotor powerplant, so eventually I gave in to my urges and set about building a 26B for the car."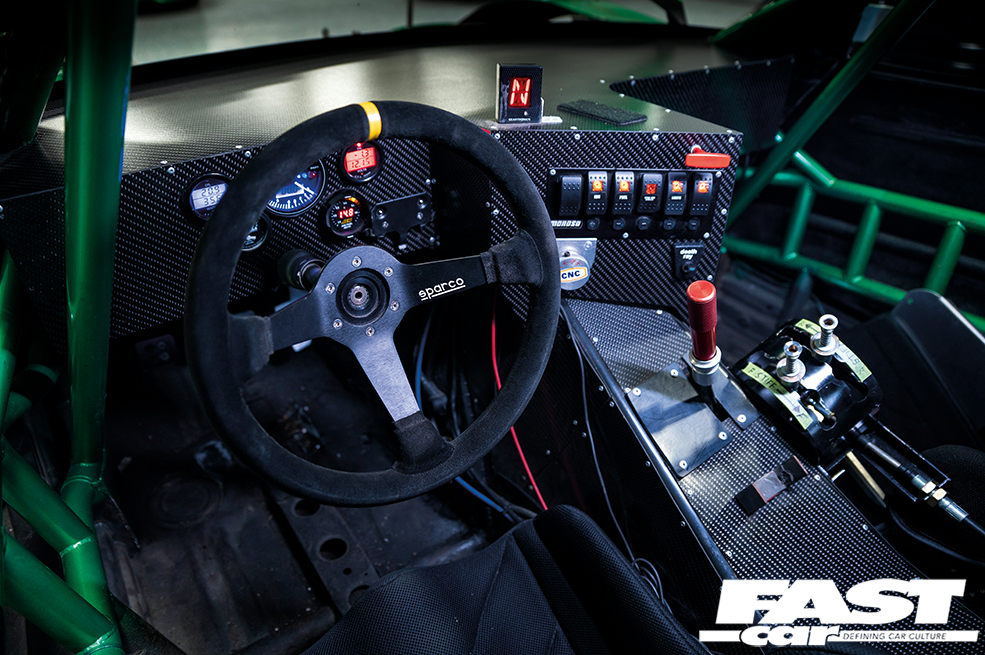 A quad rotor RX-7 engine is pretty much as it sounds, in that it's essentially just two twin-rotor engines bolted together and running a common eccentric shaft. However, the reality is a little more complex and getting all four rotors to sing in harmony and remain reliable is a job best left to the pros. Luckily, Logan is one of the top rotary engine builders in the USA and knows exactly what it takes to build such a beastly powerplant.
"The motor is a fully custom build using lightened rotors with triple spark plugs, 2mm ceramic apex seals, custom peripheral port rotor housings and aluminium side plates to reduce weight even further," says Logan. "I then had a custom eccentric shaft made along with hardened stationary gears and an additional centre bearing, a custom dry sump oil system and extensive cooling upgrades. The last two are essential to keep the engine reliable, a feat that I'd say has been achieved even after five years of hard track abuse."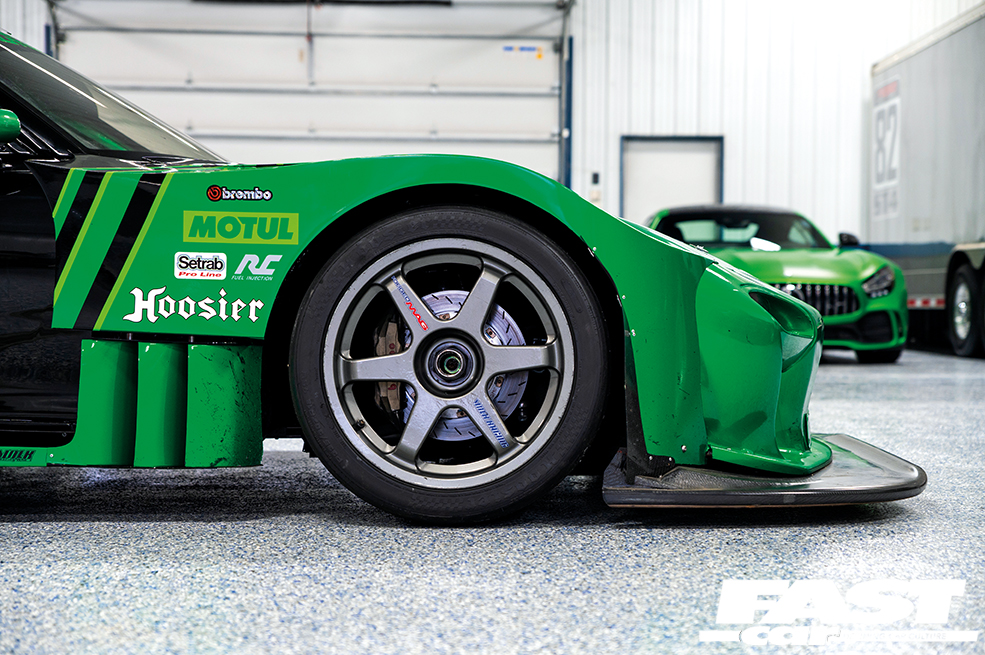 The four spinning triangles gulp down air through the slide throttle bodies mounted on CNC-machined billet intake runners, while the juice (surprisingly just regular 93RON pump fuel) is supplied by four AUS Injection 1300cc primary injectors and four I.D. 1000cc secondary injectors. Uniquely Logan runs a separate ECU for each set of injectors, an Electromotive Tec GT ECU for the primaries with additional XDi2 ECU controlling the secondaries.
Once the suck, squeeze, bang, blow process has been completed, the spent gases exit via a custom exhaust manifold which flows into a four-inch exhaust system.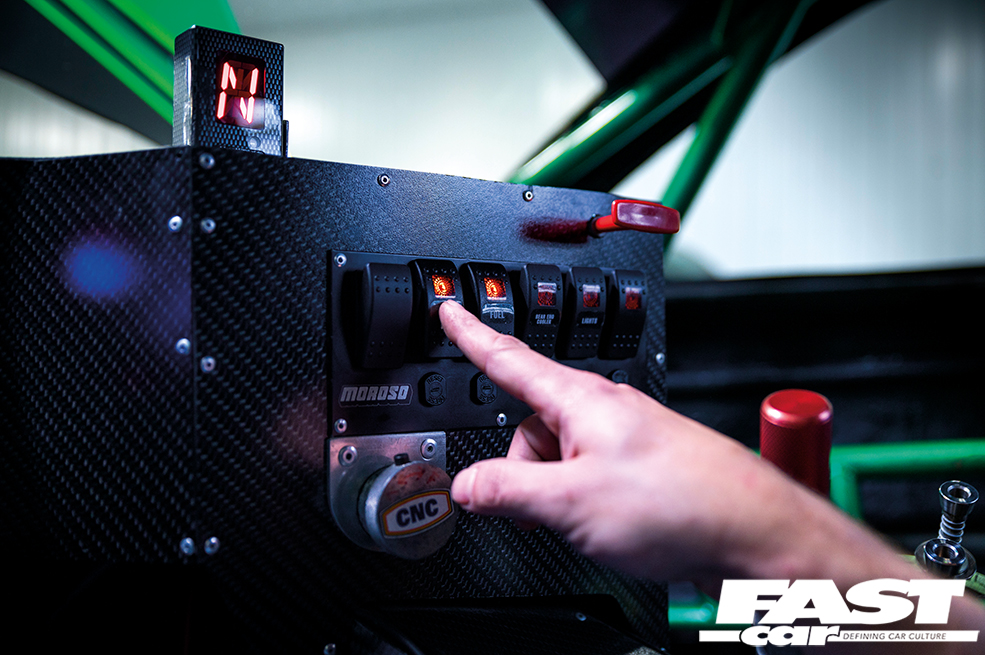 And it's the by-product of this procedure that makes up a large part of this RX-7's appeal: the noise. From the minute Logan fires the motor to life the sound that invades your eardrums, whether you're inside or outside of the car, is simply deafening. Hang around long enough to witness a few blips of the throttle and the aural assault ramps up ten-fold, as the razor-like throttle response rips the rev counter around the dial like the crack of a whip and flames shoot out of the tortured exhaust tip.
"It's the nearest thing you'll hear to a 787B," laughs Logan. "In fact, when Sony needed a quad-rotor engine to sample the audio for the 787B in their Gran Turismo Sport game, they actually used this very car, so the story has kind of come full circle."
The bespoke motor produces 700bhp and revs to 11,000rpm, which is an insane amount of power for a naturally aspirated engine.
"I've always liked taking different approaches to building cars, and I think the biggest is staying naturally aspirated. In a world where everyone goes turbo, the NA was definitely the bigger challenge," Logan explains. "Showing that it can still be one of the fastest RX-7s in the world as a road/race car, even without boost or nitrous, was a goal of mine."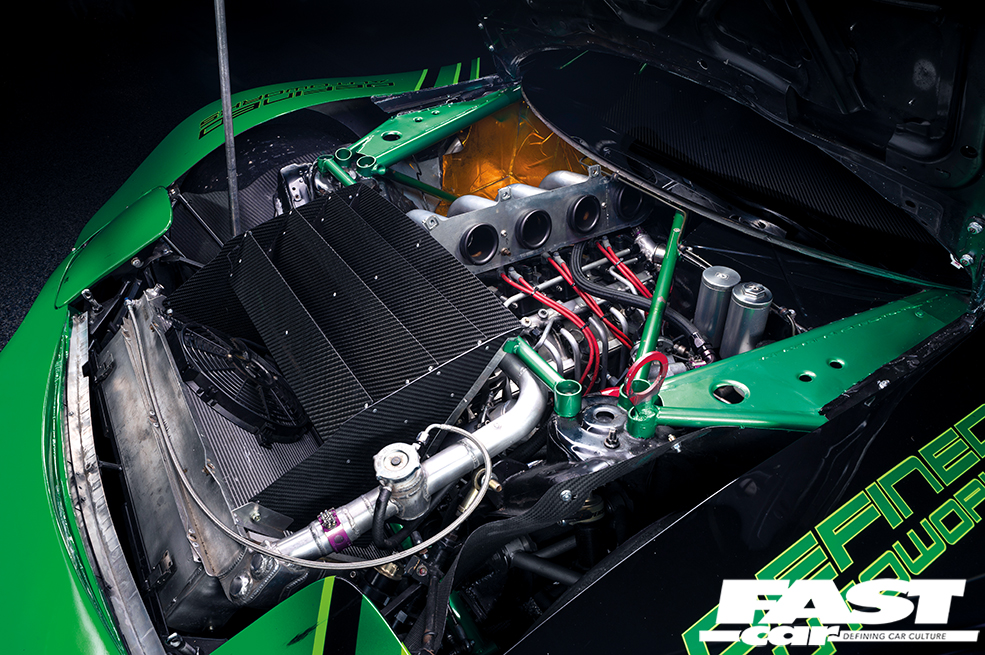 And we reckon he's achieved it. But this is a car that is so much more than mere power figures or straight line speed, as it's the chassis and transmission modifications that really allow the RX-7 to shine.
Transferring all that instant, high-revving power and torque to the wheels is an exotic Saenz six-speed sequential transmission, Tilton triple-plate clutch and lightweight flywheel. On the move the changes of ratio when Logan pulls on the shifter are instantaneous and bang home like some kind of pure-bred race machine, which of course this is… yet Logan has seen fit to keep it street legal and somewhat useable too, so he can also have fun on the streets. The rear differential remains an OEM Mazda item except for the addition of a Kaaz 1.5-way limited slip differential, which goes some way to making the car more driveable when away from the circuit, but still has the guts to last when the going gets tough.
And talking about tough, just check out that brutalist bodywork! "I knew I wanted to go even wider with the arches so I designed my own widebody conversion," Logan points out. "It began as cardboard templates, as that was the easiest way to ensure I could get each side to mirror each other and stay consistent."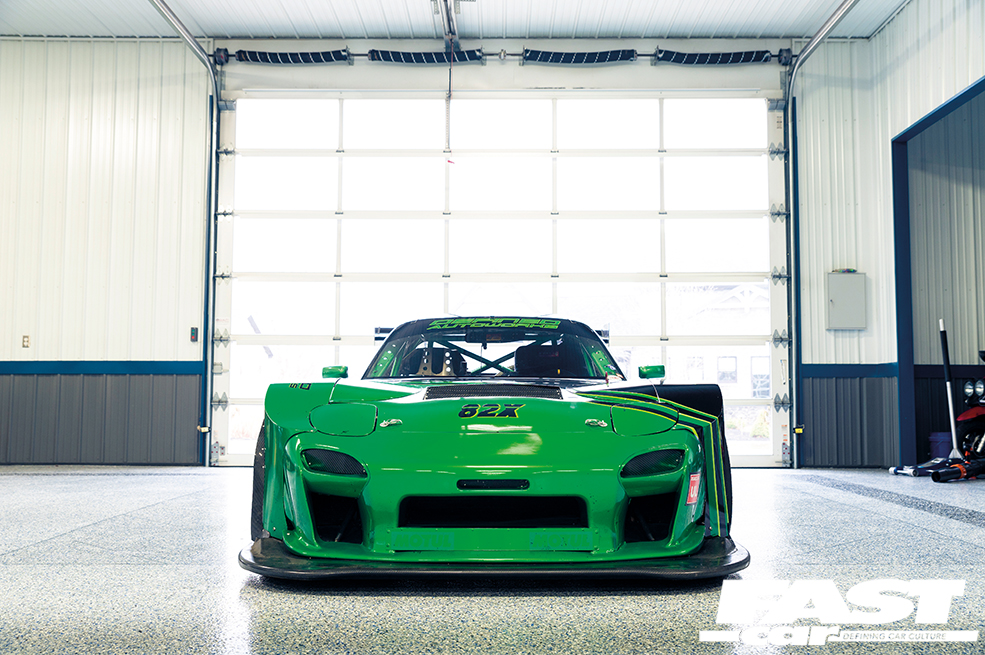 In the end, once all the lines were designed and the final look agreed, the kit was fabricated from sheet aluminium, so remains super light while adding an additional six inches to each corner. In fact the kit was so wide, that Logan needed to increase the car's track with a set of longer suspension control arms and extended drive shafts to match.
"The wider track meant the suspension also needed to be changed to suit, so I upgraded it to a set of Penske 8760 series quad-way adjustable coilovers," he says. "These work in tandem with a pair of custom in-car adjustable anti-roll bars from a Daytona prototype to keep the car as flat as possible through the corners." Which is no mean feat when you consider the wheel and tyre setup that the RX-7 is wearing. Centre-lock Volk Racing TE37 wheels made from forged magnesium measuring 13x18in at the front and 14x18in at the rear are wrapped in Hoosier A7 slick tyres and provide prodigious levels of grip.
However, even with the massively extended arches, these girthy hoops required Logan to extensively tub the rear arches and convert much of the front end to a spaceframe to allow clearance when running the car at race ride height.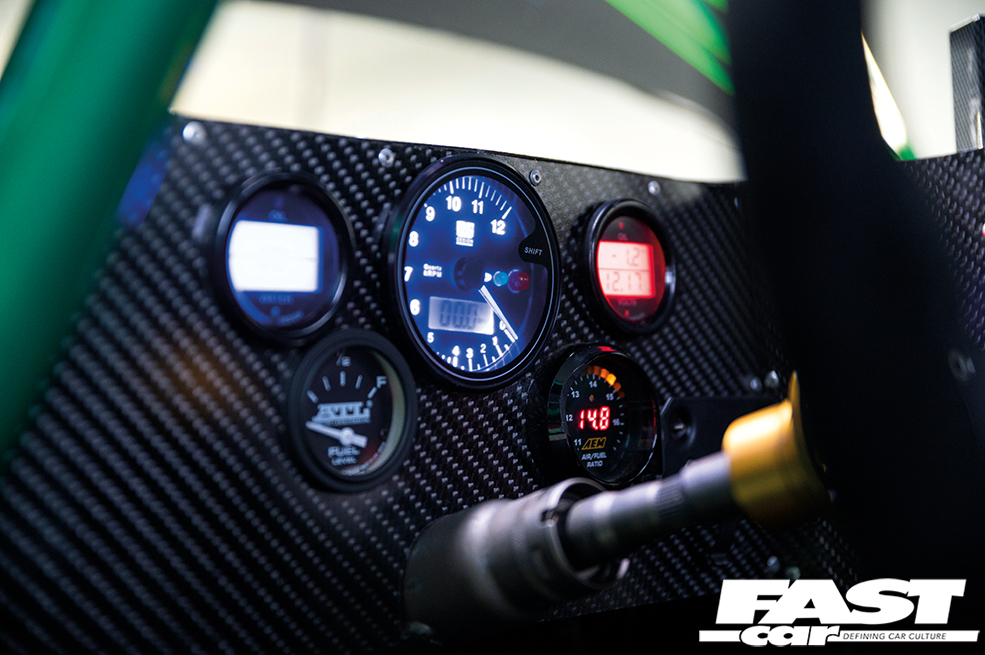 "The car needs to be as low as possible when racing to get the best from the aero upgrades," he says. "Currently these are limited to the Daytona prototype front splitter and rear diffuser and the huge, chassis-mounted APR rear wing, but will soon be joined by a full carbon undertray from a GT3 NSX, before the whole package is tuned in a wind tunnel for maximum effect."
The combined effects of the aerodynamics, the wide-track suspension and the immense rubber means the quad rotor RX-7 can pull frankly ridiculous G-forces in the bends, which is why the stripped and caged interior features a pair of radical Kirkey aluminium race seats with Racequip five-point harnesses to hold Logan in place when things get serious.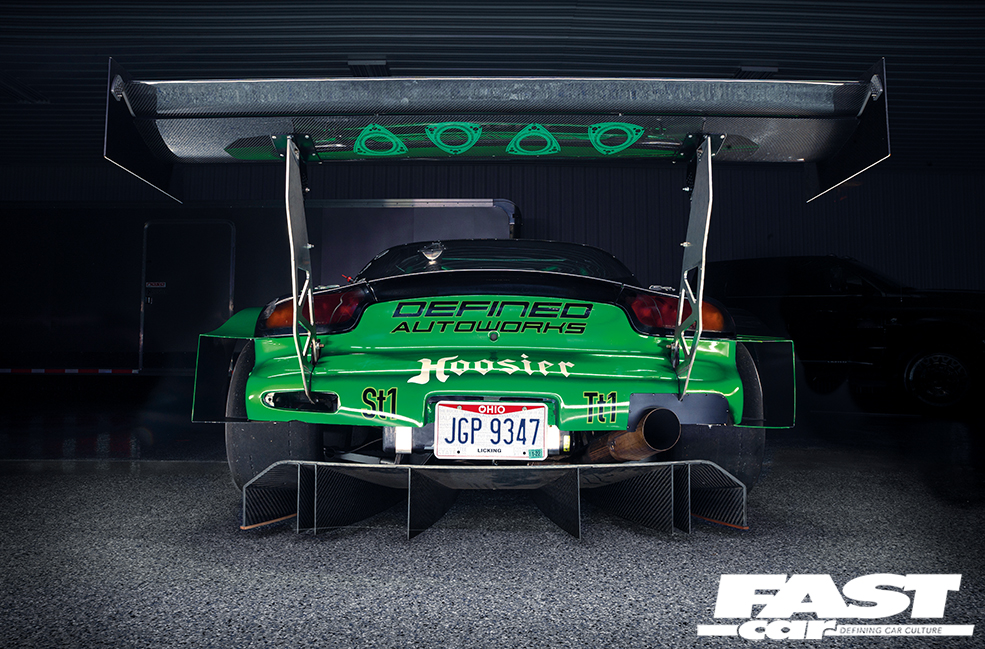 But as amazing as the quad rotor RX-7 is as a package, the truth is, no matter what he does with the rest of the car, the star of the show is always going to be that incredible motor.
What other engine can deliver 700bhp in a high-revving, naturally aspirated package with instant throttle response and super-linear power delivery? Not many. And if it was good enough for Mazda to conquer one of the hardest endurance races on earth, then what more proof do you need of its performance car credentials?
So if you're still not a converted rotor-head, then we'd suggest you try and get a face-to-face audience with Logan's mental self-made monster. If experiencing its apocalyptic engine note at full throttle doesn't get you going, then you must be numb from the neck down, and no amount of foreplay is going to change that.
Tech Spec: Quad Rotor RX-7
Engine:
Custom 2.6-litre, 4-rotor wankel engine by Defined Autoworks, lightened rotors, 9.7:1 compression, 2mm Ianetti ceramic apex seals, custom full peripheral port rotor housings with port timing matching the 787B engine, front, centre and rear side plates are aluminum to reduce weight, custom eccentric shaft, custom dry-sump external oil system, hardened stationary gears, race rotor bearings, 5 main bearings, extensive cooling modifications, custom intake with CNC slide throttle ITBs, custom CNC billet intake runners, ITG air filter, 4x 1300cc AUS injection and 4x I.D. 1000cc fuel injectors, Electromotive Tec GT ECU, custom exhaust manifold, custom 4in exhaust system, NASCAR radiator, 55 row Setrab oil coolers, boot mounted race fuel cell
Performance:
700bhp and 430lb ft of torque
Transmission:
Rear wheel drive, SAENZ TT-3 6-speed sequential transmission model with straight-cut gears, lightweight aluminium flywheel, Tilton 5.5in triple plate racing clutch, Kaaz 1.5 way Super Q LSD
Suspension:
Lowered 75mm on Penske 8760 dual bleed quad adjustable coilovers with Hyperco springs, custom Defined Autoworks tubular control arms with Aurora heim joints and pillow ball throughout, custom hubs for centre-lock wheels, cockpit adjustable titanium blade anti-roll bars front and rear
Brakes:
Brembo X9 monoblock billet titanium 4 piston (front) and 4 piston (rear) calipers, PFC floating 13in x 1.40in discs, Hawk DTC-60 pads front and rear, stainless brake lines, AP racing dual master cylinders with cockpit-adjustable brake bias bar
Wheels & Tyres:
13x18in (front) and 14x18in (rear) forged magnesium Volk TE37wheels with 335/30/18 (front) and 345/3518 (rear) Hoosier A7 slick tyres
Exterior:
Custom Defined Autoworks aluminium widebody kit, 6in wider per side, chassis fully tubbed for tyre clearance, resprayed in PPG black paint with green livery by Pro-signs, SPA race mirrors, APR-1000 rear wing with custom frame-mount wing stays, carbon-fibre front diffuser custom adapted from Gen III Daytona prototype
Interior:
Custom carbon-fibre dash, Kirkey aluminium race seats with Racequip 5-point harnesses, SPA race gauges, onboard SPA fire suppression system, Momo Race steering wheel, custom adapted Prius electric power steering, full custom rollcage