A Japanese icon, refined in Britain with a German flavour – Auto Finesse's modified Nissan Skyline GT-R R32 is a worldwide phenomenon.
From Fast Car. Words: Dan Bevis. Photos: Dan Wilbur
Skyline. It's one of those names that evokes passionate urges and swells of excitement among car enthusiasts of a certain age. Outlaw road-racers, banned from competition in period simply because no-one else could keep up, their road-going production counterparts taking the very concept of the automobile to outlandish and scarcely believable places. For a generation raised on the Gran Turismo franchise, it's more than just a car, it's an impossible dream.
Owing to the 'Godzilla' R32's relentless racing successes, there are few more alluring profiles in the Japanese tuning sphere. While today's burgeoning JDM enthusiasts may well be captivated by the cult of the R35 GT-R, a car so phenomenally accomplished that it makes supercar owners feel distinctly short-changed, an older audience fondly recalls the days when the GT-R badge was appended to a series of Skylines rather than being a model in its own right. For such people, the 1990s-era Nissan Skylines sit on a gilded pedestal. These are heroic entities, things that we always wanted but generally couldn't quite afford, and now that they're gracefully ageing, the values are rising and numbers in existence are dropping. Calling these cars desirable doesn't go anywhere near far enough.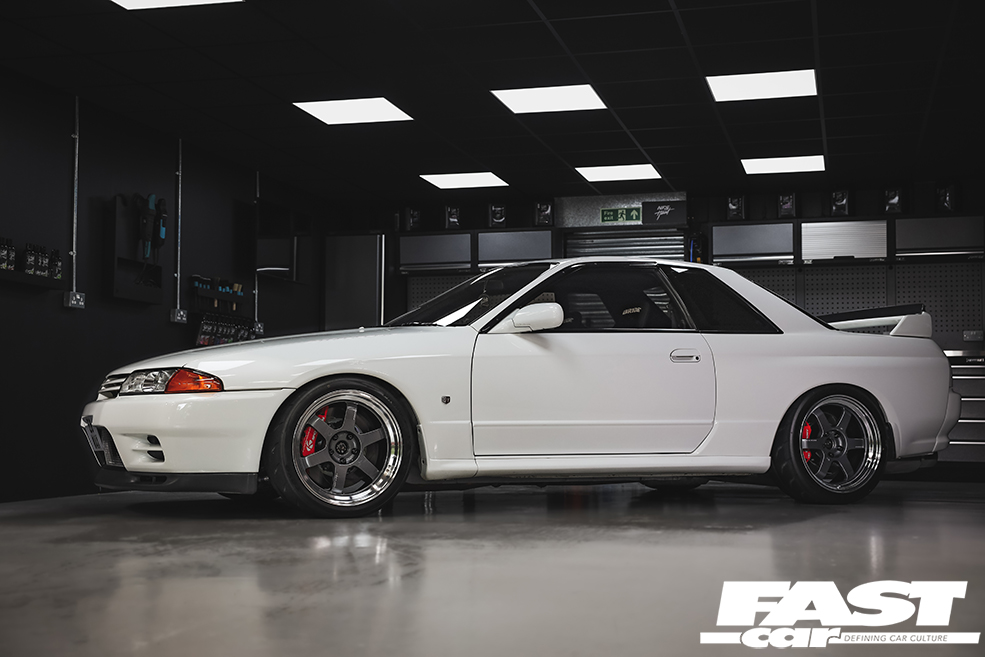 For the guys at Auto Finesse, the R32 Skyline GT-R represents even more. An icon, sure; a legend, no doubt. But for this squad of merry detailers it's also a very visible change in direction. You see, there are certain things that are widely known about #teamAF: the broad range of quality detailing products, the high-end project cars, the focus on form and function in harmony. And for a lot of people, the Teutonic core of the cars they build. Until fairly recently, these boys and girls were best known for crafting German cars to showcase their wares; the Mk2 Golf, the BMW E28, the VW Caddy, it all feeds into a sector of the scene nurtured by our sister mag Performance VW, by Ultimate Dubs, by Edition 38. But now, as the evidence before you demonstrates, Auto Finesse is spreading its wings, and enthusiastically flapping them eastwards.
James Batty, MD of Auto Finesse, had a clear idea of what he wanted to achieve with the Skyline, and with the help of AF tech wizards Midge and Mitch, a battle plan was drawn up and the build began in earnest. "It's a genuine GT-R, and it was basically standard when James bought it," says Midge. "This is the company's first foray into Japanese cars; with AF being best known for its German motors, the aim was to apply that German style to a Japanese car – so we're talking crazy-low on nice rims, big chunky tyres, a classic look."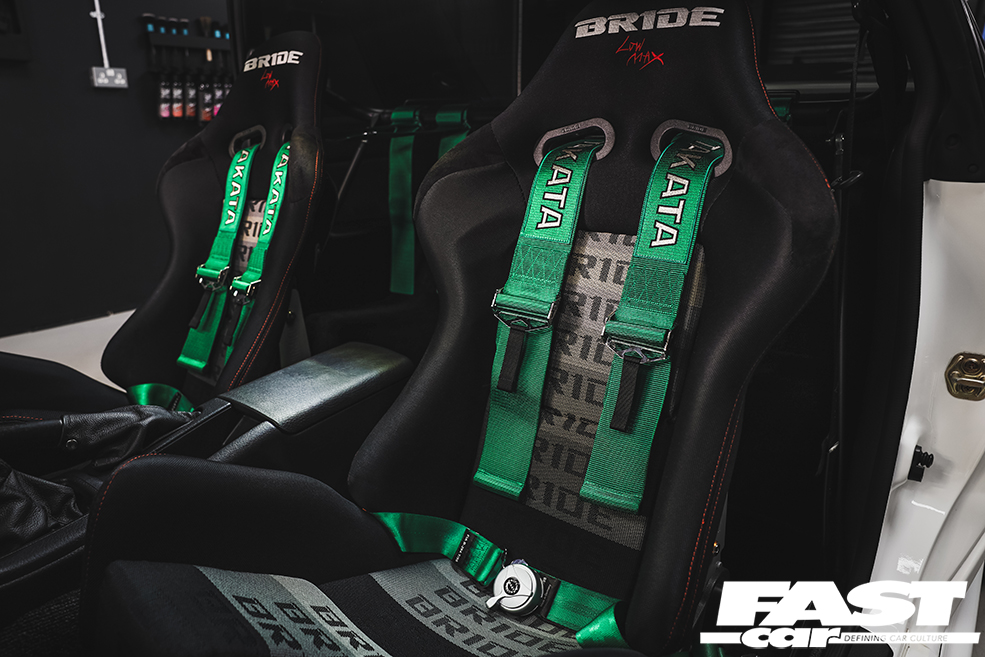 The fusion of styles is masterful, because it would arguably be easy enough to follow a stance>rims>go path and essentially make this the Nissan equivalent of a bagged Mk5 Golf. But there's something far more nuanced happening here, using all the Gucci parts from the JDM aftermarket to build it into the sort of GT-R that every modder wants to own, while still giving that unique twist that makes it recognisably an Auto Finesse concept.
Naturally, with so much experience in modifying and hard-driving aspirational project cars, James was in a good position to take care of the shopping list and set about putting it all together. It wasn't all plain sailing, however. Just as the plan was being set in motion, a certain virus arrived on our shores…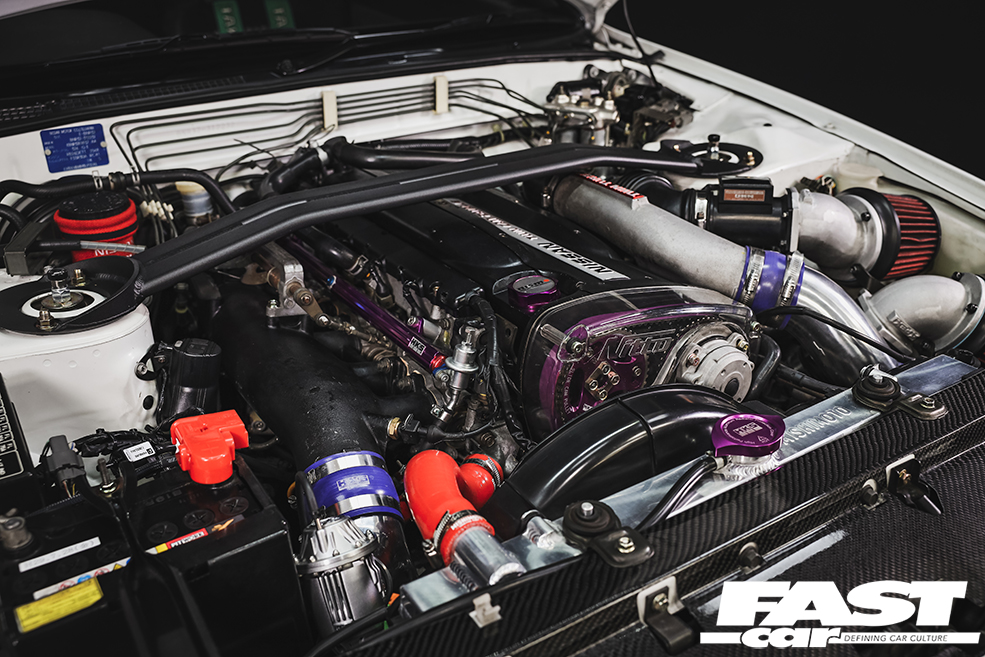 "The hardest part of building this car has been getting hold of the parts under lockdown," Midge explains. "Building something like this isn't like modding a German car anyway; it's not a case of just grabbing bits off the shelf or getting them overnighted, you've got to wait for things to be shipped from Japan if you're serious about using the right bits. So the nature of what it is means that a project like this is always going to take longer than building, say, a Golf. And when you add Covid into the mix it's a nightmare, parts were delayed from all over the globe."
With parts supply necessarily dictating the build, progress happened in stages. James, Midge and Mitch began the mechanical makeover with the chassis, fitting the BC Racing coilovers along with the camber arms and HICAS delete kit, and making sure it was all beautifully set up. The BBK also made its entry here, the fronts being whacking great 8-pot K-Sports. James took it out on track a few times and, as always seems to be the way, came back saying that it was awesome, but needed to be more powerful. Which was like a red rag to a bull.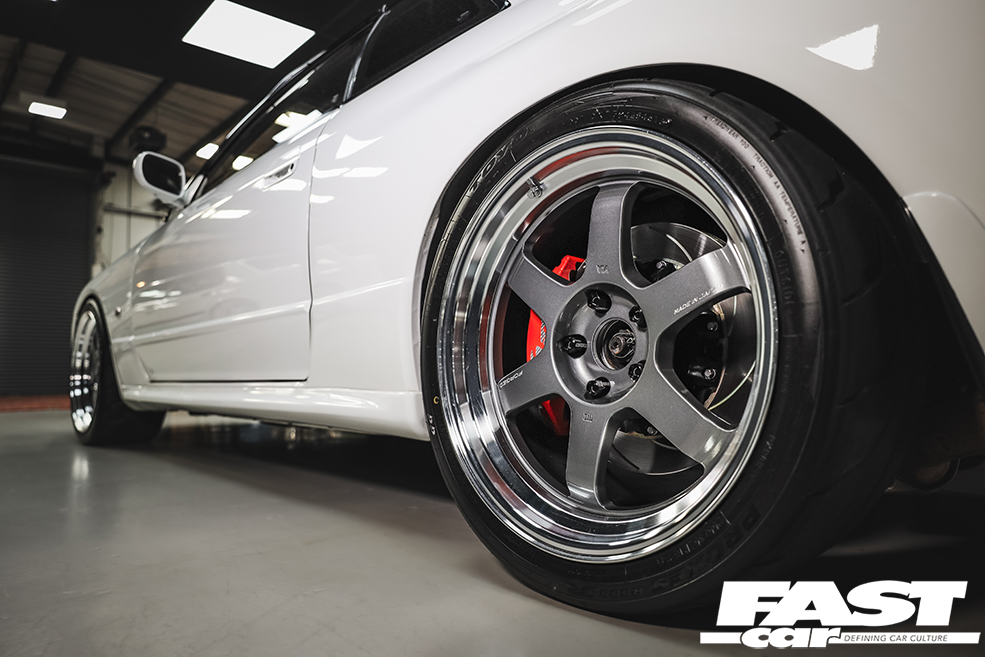 As is the pattern with all Auto Finesse builds, this was a real no-expense-spared effort to make it the best that it could possibly be; however, whereas the usual modus operandi is to cherry-pick the best parts to work together holistically, this GT-R is a little more heavily modified than the other cars in the stable.
The colossal JDM aftermarket certainly helps here, and when it comes to cranking up the figures on an RB26, the sky really is the limit. It's interesting to note, though, that they haven't wound it up to 1000hp and dissolved the manifold in a high-octane meltdown; this modified Nissan Skyline GT-R R32 hasn't been built for show-off figures, but for usability. It's now running a solid 477hp, and this has been achieved in large part thanks to a trip to RK Tuning in Benfleet. This is an outfit that knows essentially all there is to know about tuning Skylines (you should see their drag-spec R32, it's a monster), and what started as a tentative step toward power increases turned into what amounted to a job-lot of parts from HKS. The turbos were upgraded to brawny HKS units, with the revered Fujinomiya-based specialists also providing the cams, pulleys, fuel rail, injectors, SSQV blow-off valve and a whole bunch more. Mishimoto were on hand for cooling duties, induction came courtesy of an A'PEXi Power Intake, and the exhaust system is a pukka Fujitsubo Legalis setup with decat.
All of this is knocked into shape by a Link G4 ECU, and while this offers such hardcore specs as launch control and anti-lag as well as three switchable maps, it also helps to uniquely tailor the power to the core aim: usability. Yes, they could crank this setup to a figure beginning with a six or even a seven, but what's the point of bragging about numbers as your turbos melt? The tuning here is supremely smart, and the upshot is a modified Nissan Skyline GT-R R32 that's devastatingly rapid, but also eminently drivable and satisfyingly reliable.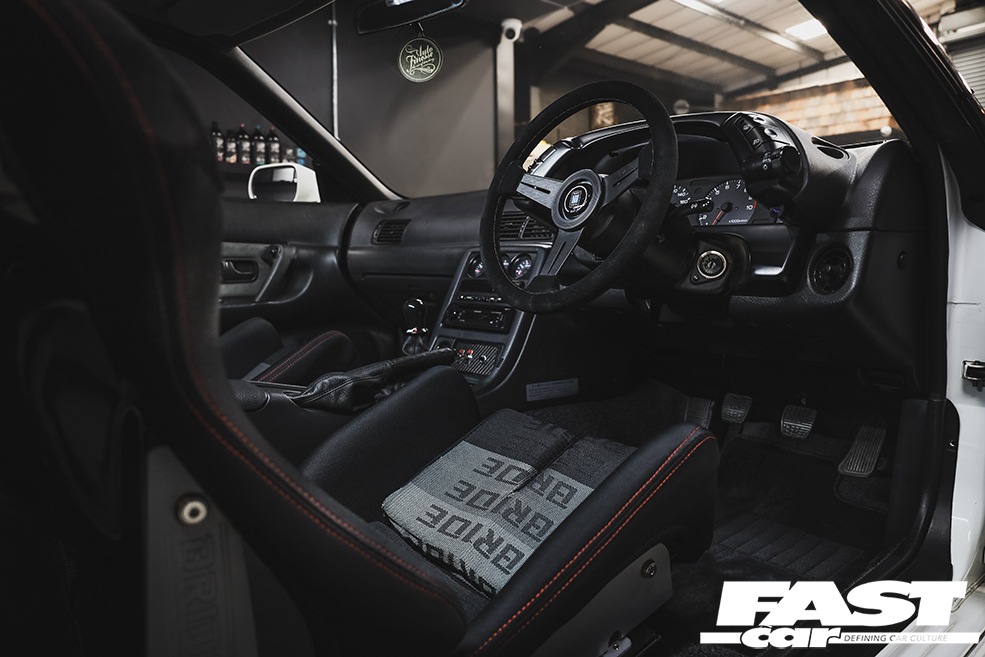 See, while this car has one keen eye on the track, it gets a fair amount of use on the road as well. Peer inside and you'll spot that it's got floor mats and doorcards and a full dash, it's not a compromised circuit toy. There's a full audio setup here; in fact it's a bloody clever one, with the latest Kenwood DAB and Bluetooth hard- and software, with enormous power pounding through its multiple Kicker speakers, and a JL Audio active subwoofer that's easily removed for track work. All bases (and basses) are covered.
That's the vital thing with this Skyline: it's all set up for functionality. A lot of arch work has been carried out to allow it to run this low over those sublime TE37s without causing any drivability issues, the interior is neatly equipped so as not to be annoying on road trips, the power is uniquely tailored to balance aggression with tractability. And the overarching aim has been achieved – it's a recognisably Auto Finesse creation, slathered over a Japanese canvas. T
he JDM track car bug has well and truly bitten too, as having felt the visceral thrills of all-wheel-drive eastern lunacy from this R32, James has now bought a new GR Yaris to act as the next AF project. That's not to say the team are done with the Skyline yet, of course; it'll soon be receiving some custom graphics, and most likely be fully stripped down to have every individual component detailed before being rebuilt – keep an eye on YouTube for that one. The guys are going to keep tinkering with it, because this is a car that they all really wanted to build. The R32 GT-R is such an icon, such a legend – and with the Auto Finesse treatment, it's entered a whole new realm of desirability.
If you're feeling inspired, be sure to check out our dedicated R32 buying and tuning guides!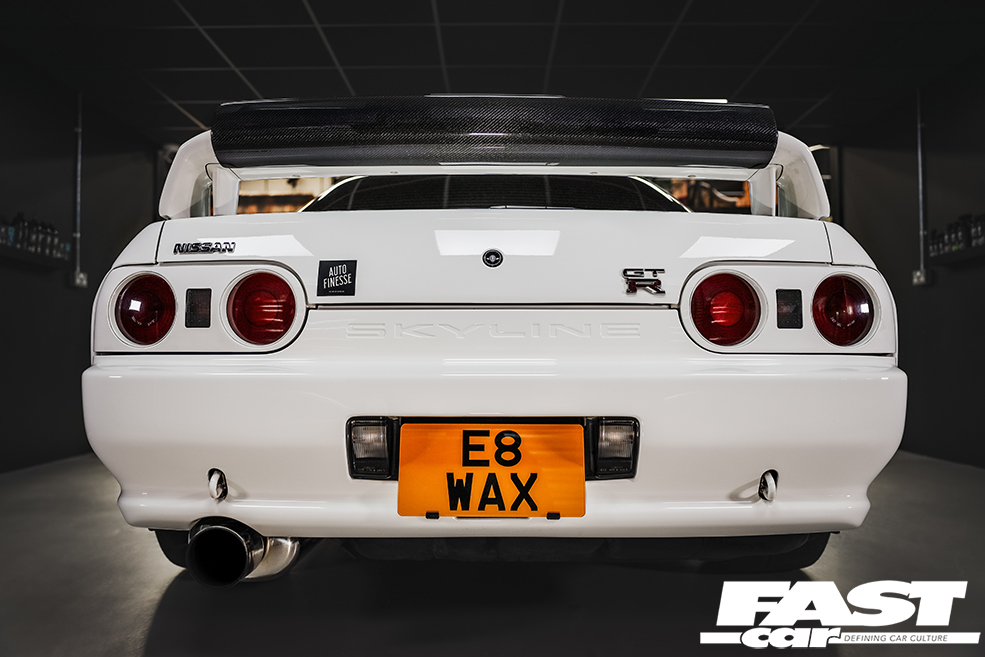 Tech Spec: Modified Nissan Skyline GT-R R32
Engine:
RB26DETT 2.6-litre straight-six, uprated HKS turbos, front-mount intercooler, HKS SSQV blow-off valve, HKS race cams, HKS fuel rail, HKS injectors, HKS pulleys, HKS timing belt, HKS radiator cap, Nitto cambelt cover, Mishimoto alloy radiator and silicone hoses, full Fujitsubo Legalis exhaust system and decat, Link G4 ECU with anti-lag and launch control, custom map, A'PEXi Power Intake kit, carbon fibre slam panel cover
Transmission:
5-speed manual, AWD
Suspension:
BC Racing coilovers, Hardrace front and rear camber and toe arms, Japspeed HICAS delete kit, alloy upper strut brace
Brakes:
K-Sport BBK: 8-pot with 356mm floating discs (f), 4-pot with 330mm discs (r), Pagid RS29 pads
Wheels:
9.5×18-inch Rays Volk TE37 wheels, 255/35 Toyo R888R tyres, Rays wheel nuts
Interior:
Bride Low Max bucket seats, Takata harnesses, Nardi Classic steering wheel and boss, Kode harness bar, custom rear seat delete, Nismo floor mats and shifter, Kenwood KDC-BT950DAB headunit, Kicker Key 180.4 micro amplifier, Kicker 6.5-inch coaxial speakers (rear shelf), Kicker 4-inch coaxial speakers in custom adaptors (doors), JL Audio ACP112LG-TW1 12-inch active subwoofer.
Exterior:
Modified inner arches, carbon fibre gurney flap, full detail (naturally)