The Mercedes C63 AMG W204 has already passed into modern-classic status, offering other-worldly performance and a high-end finish in all its various forms. Here's what to look for when buying and tuning one.
Mercedes W204 range
The W204 was the third generation of the popular C-Class model line. This compact-executive had been a market stalwart since 1993, and the advent of the W204 in 2007 took the established formula and moved it onward technologically and stylistically. It was a case of evolution rather than revolution, as the market – and established Mercedes-Benz consumers in particular – demanded something very specific: a modern and forward-thinking iteration of that which was already established. A continuation of C-Class values, with an appropriate contemporary flavour.
There are three codes to consider here: W204 denotes the saloon model, C204 is the two-door coupé, and S204 is the estate and while there were numerous engine options available, the one that's particularly exciting us right now is the C63 AMG. Arriving on the scene in mid-2008, this range-topping goliath came equipped with a naturally aspirated 6.2-litre V8, good for 457hp and 442lb ft. This was enough to launch the four-door saloon and two-door coupé variants toward the horizon with improbable rapidity; 0-62mph was dispatched in an eye-watering 4.5-seconds. And, rather brilliantly, an estate version was also available, for people who really needed to get their hedge clippings to the tip in a hurry; the extra mass and different aero behaviour only added 0.1s to the 62mph dash. Incredible machines indeed. Top speed was limited to 155mph for all C63s, but limiters can always be removed…
The lunacy didn't stop with just the launch models either. Before long Mercedes-Benz keenly announced some spicy upgrades; the Performance Pack option left the drivetrain untouched but beefed up everything connected to it, comprising bigger brakes, a limited-slip differential, stiffer suspension and a carbon fibre boot spoiler, while the speed limiter was raised to 174mph. The next step up from this was the Performance Pack Plus (PPP), which did all of the above as well as cranking peak power up to 487hp. Interestingly, the PPP didn't include the limited-slip diff and it was made a cost-option – so it is possible, if unlikely, to find PPP-equipped cars that don't have the LSD. Always worth checking through the paperwork!
There subsequently came a few special editions too – the DR520, the Black Series, and the Edition 507. The DR520 was a UK-only variant that cost a full £9995 more than the regular C63 AMG; for the substantial extra outlay, buyers got 520hp (hence the name) and a speed limiter further raised to 187mph – only 20 of these cars were built, so they're very much sought-after today. The Black Series arrived in 2011 and was a seriously hardcore offering. It borrowed some choice engine componentry from the bigger-brother SLS supercar, increasing power to 517hp, and this was allied to aggressively wider arches, and the option of the AMG Track Pack which offered a transmission cooling system and soft-compound tyres as well as the AMG Aerodynamics Pack. Finally came the Edition 507, which was a kind of greatest-hits of the formula; it had a 507hp engine, bigger front brakes, and the Black Series bonnet.
A facelift across the range in 2011 brought in a new front bumper with reshaped grilles and a restyled front apron. These later cars also had daylight-running lights and clear headlamps, with Performance Pack-equipped cars getting a carbon fibre spoiler.

What to pay for a Mercedes C63 AMG W204
Compared to the more mainstream C-class, the Mercedes C63 AMG W204 is in another realm when it comes to performance – although depreciation has hit them fairly hard and they're extremely good value today: prices start around £15,000 for a high-miler saloon or estate, rising to £20,000 for cars with reasonable miles. Decent coupés start a little below the £20k mark, with £25,000 buying a low-mileage example. Edition 507s can be found in the region of £35-40,000. Black Series cars are more sought-after by collectors, with prices starting above £80,000. Interestingly, despite its rarity, we did find a limited-edition DR520 estate on the market at £29,995 at time of writing.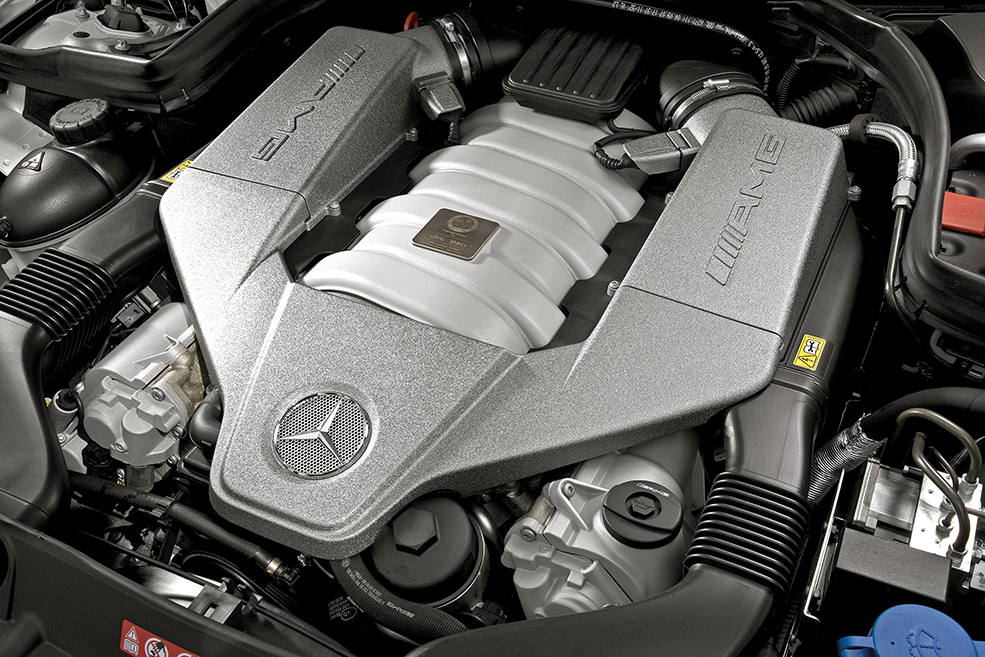 What to look out for when buying a Mercedes C63 AMG W204
The engine is this car's party piece, and the 6208cc M156 V8 is an absolute monster of a thing – brutal power, one of the all-time great exhaust notes, and superb reliability if it's looked after properly. However, it isn't infallible, and there are a few things to be aware of: firstly, there's a potential issue with the cylinder head bolts on cars built between 2008-11 – in some cases they've been known to break, which in turn causes the head gasket to fail and wrecks the engine. The first warning the driver gets is a 'low coolant' light, followed by a misfire, by which time it could already be game over for the engine. This is by no means common, but it's worth checking the history very carefully for evidence of remedial work – or even full engine replacement. Thankfully it's an issue easy to protect against, replacing the bolts with head studs as fitted to later engines, though it's not a cheap job – it's possible to replace each bolt individually but, if they were weakened enough to allow the heads to lift, the work will be a lot more involved. Another issue to be aware of is that the cam lobes can be prone to premature wear; indeed, many specialists will suggest that replacing the camshafts should be a fairly regular maintenance task as failures are most common around the 100k-mile mark. Wear is usually worst on the intake cams, and if left to their own devices they'll eventually chew through the hydraulic lifters, with troubling consequences. Frequent oil changes are also, of course, very highly recommended.
The magnesium intake manifold can also be a potential trouble spot, as the centre plate mounting the two throttle bodies can deteriorate which leads to a rough idle. The crankcase breather valve can fail in two different ways; either the internal diaphragm deteriorates, or the connecting hose becomes heat-damaged and cracks – heavy smoke from the exhaust and/or a P0170 fault code will be the signs here, and it's not an overly tricky thing to replace. If the engine has a rough idle, it's most likely a leaking inlet manifold that's to blame, although it's also worth checking if the car's been remapped as this can also display similar symptoms. It's worth checking the condition of the drive belt and idler pulleys whenever the oil is changed, because they're plastic and, under stress, can fail. And finally, look out for oil leaks from the valve cover gaskets and/or camshaft solenoid cover gaskets – these will need addressing immediately as any escaping oil can seriously damage the nearby ancillaries.
It's noteworthy that the 204 C63 had two different transmissions depending on which year you're looking at; 2008-11 cars had the AMG Speedshift Plus 7G-Tronic seven-speed auto 'box, a conventional torque converter with Comfort, Sport and Manual modes. Facelift cars (2011-15) had the AMG Speedshift MCT transmission with an automatic lock-up clutch and extra S+ automatic mode – this latter setup shifts faster, but is also prone to overheating under hard use.
On the move, if you feel a wheel wobble at speed it'll probably be because the steering rack bolts need tightening. In terms of bodywork, naturally, you should be looking for even and uniform panel gaps or any evidence of impact damage – after all, these are cars that often get driven hard. There are no common issues with corrosion reported, and the W204s are very well made; indeed, the only common complaint with the exterior is that the paint is soft which means the nose is particularly vulnerable to stone chips. Inside the car, you'll probably find that the driver's seat bolster is worn – they all do that, but it's not an expensive thing to fix. Electric seat adjustment can cause issues so make sure that's all working as it should. Have a good look through the options too – lots of cost-option extras were available, so check to see if the car you're looking at has the desirable reversing camera, DAB radio, COMAND Media, and Luxury Climate Control.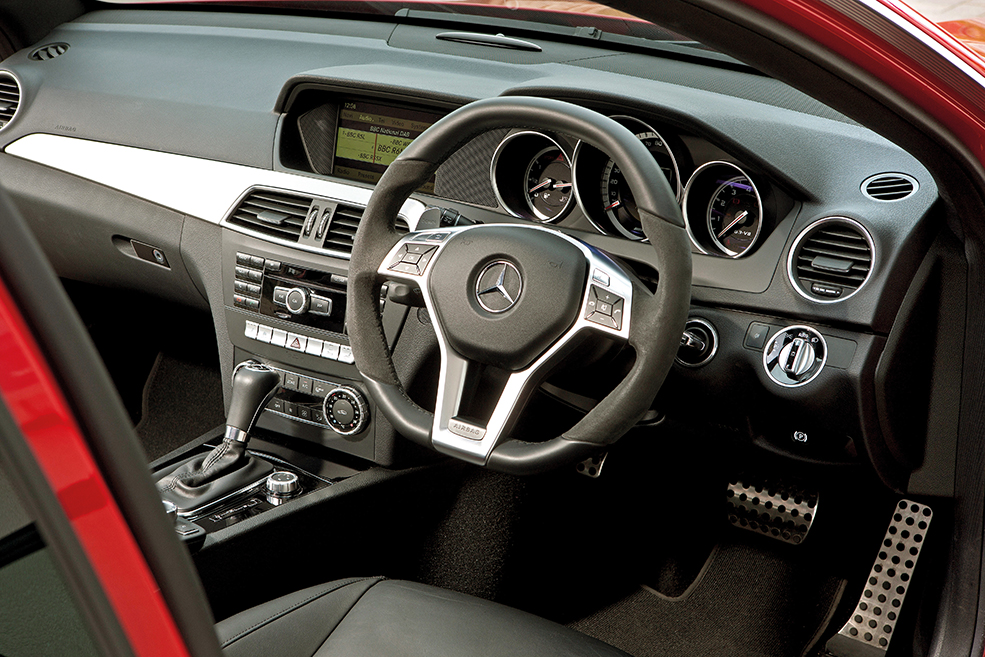 Mercedes C63 AMG: Our choice
With surprising diversity in the range, it's tough to pick a favourite. Because while we're looking at fundamentally the same model in each instance, every flavour of C63 AMG has its own distinct appeal. If you want to have fun on track, the Black Series coupé is what you're after. If you want something that's a little spicier and more special than stock, the Edition 507 is the one to have at the top of your shopping list. Fancy getting the kids' adrenaline pumping on the school run? That'll be the four-door saloon, the most popular body style. But for us, the prime choice has to be the C63 AMG estate – it's just such a remarkable idea, putting all of this power and ability into a practical wagon. It'd provide hedonistic thrills on an everyday basis, and never feel like a compromise, making it our favourite.
Tuning guide
Remaps are an easy route to power with the C63; that brawny V8 has plenty more to give, and a simple plug-in remap will add an extra 40hp to a stock car, or 60hp to one with downpipes and secondary de-cats. High-flow exhaust manifolds aren't cheap but can give good gains throughout the rev range as well as giving you even more of V8 noise to enjoy, making them well worth a look.
If all of that epic and thunderous horsepower still isn't scratching the itch, it's interesting to note that this engine is very receptive to supercharging and there are a few options available. ESS offers a kit using a Whipple twin-screw supercharger kit complete with intercooler, injectors and everything else you need – it's priced at around £8000, with ESS stating it will add 180hp to standard C63s and 150hp to Performance Pack Plus-equipped models. Weistec also offers a twin-screw supercharger kit available in three different flavours – for $10,000 you can buy either the 186hp version (legal in all US states) or the 221hp version, which requires a less restrictive aftermarket exhaust, while the Stage 3 kit offers 289hp for those really committed to power and happy to carry out the numerous supporting mods required.
If you have a later model with the AMG Speedshift MCT transmission, potential cooling issues can be remedied by fitting a Black Series front bumper along with the Black Series transmission cooling setup; it's an involved and expensive process, but it'll pay dividends if you're planning to drive the car hard on the track.
Finally, one thing that almost all C63 owners sing the praises of is the optional limited-slip diff – either because they have it and they love it, or they don't have it and they want one. If your C63 doesn't have an LSD, Quaife offers a superb upgrade – these are around £900 to buy and a must-have upgrade.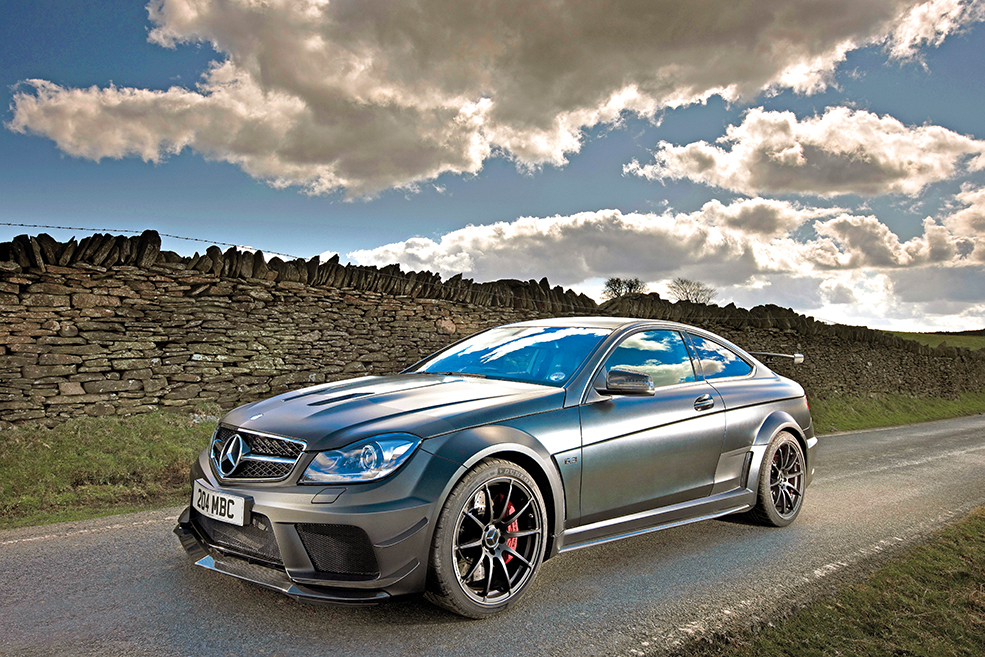 Mercedes C63 AMG W204 verdict
The W204 range enjoyed such diversity that it really does offer something for most buyers, whatever their requirements may be. What's key to remember is that, while there are a few potential pitfalls and known issues, these are generally uncommon and well-known to specialists, so this isn't a car that needs to be approached with caution. Indeed, it's one to be embraced, for its high-end finish and attractive levels of equipment as much as its ludicrous performance potential. A crisply designed and handsome model, the W204 represents a high watermark in Mercedes-Benz history, and the C63 AMG will most assuredly go down in history as one of the truly great performance cars of the era. The special editions make ideal additions to high-end collections, but it's the 'everyday' C63s (if you can call them such a thing) that represent the real sweet spot: for as little as £15,000, you could have the potential to embarrass many modern sports cars, and you've got room to bring the family along for the ride. What more could you want from a car?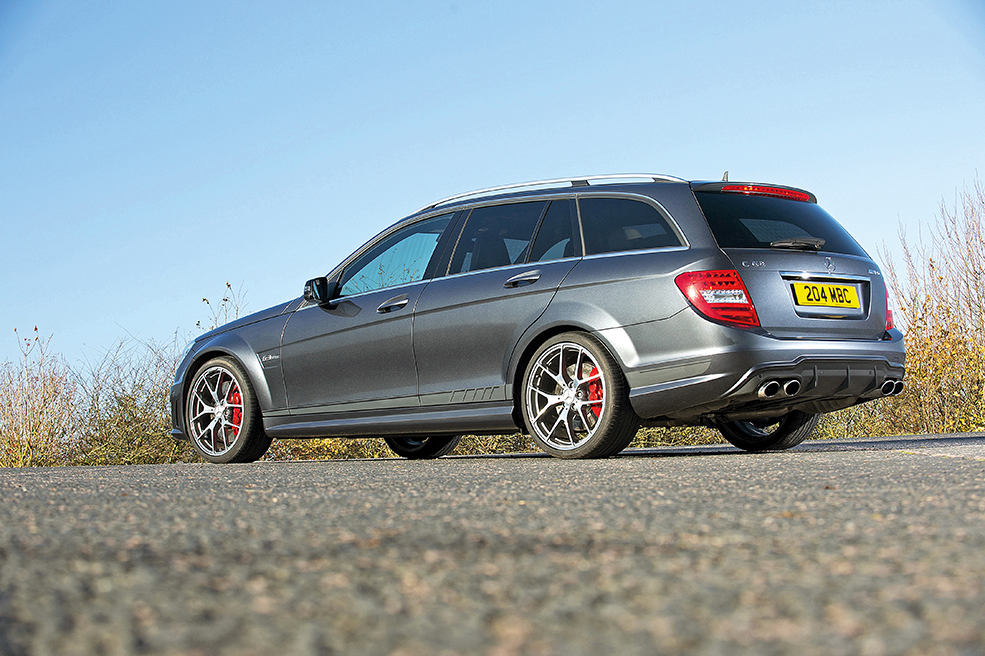 Source