If you like your hot hatches hardcore and high-revving, the Honda Civic Type R is the machine for you. Eschewing comfort in favour of focus for all-out performance and handling, this is arguably the driver's hatch of choice, especially in earlier NA form with its screaming VTEC motor, and the closely related EP3 and FN2 are both exceptional machines and excellent used buys.
Guide from Fast Car.
Racing improves the breed." Soichiro Honda said that, and it's a quote that's been widely spread about the motoring sphere ever since. The classic 'win on Sunday, sell on Monday' ethos of Touring Car racing runs along the same lines, but few company figureheads have so concisely captured the spirit of it all as old Mr Honda. It's because he walked the walk, he wasn't just paying lip service. Do you know how he reacted to Honda's first-ever victory in Formula One? In a deadpan tone, with a hint of a smirk, he said: "We will not be content with this victory alone. We will study why we won, and aggressively apply those winning technologies to new cars." This is why Honda road cars today are such formidable things – the company works out which bits are operating best at full-tilt on the race track, then shoves it all into its road cars, hidden behind a veneer of sensibleness but always waiting to pounce when the cam profiles shift into the shadowy VTEC zone.
Type R Hondas are the most exciting and engaging result of this. The 'R' stands for 'Racing', and this is a badge that's only been glued to a handful of models: the NSX Type R, the DC2 and DC5 Integra, the Accord Type R and Euro-R, and a few generations of Honda Civic Type R, which model-number aficionados will know as the EK9, EP3, FN2/FD2, FK2, and the hilarious current FK8, which is basically a BTCC car without the stickers (and, we can confirm from first-hand experience, will happily do 169mph on the autobahn). The ones we're looking at today are the Honda Civic Type R EP3 and FN2 – two cars that may look completely different but are actually very similar under the skin.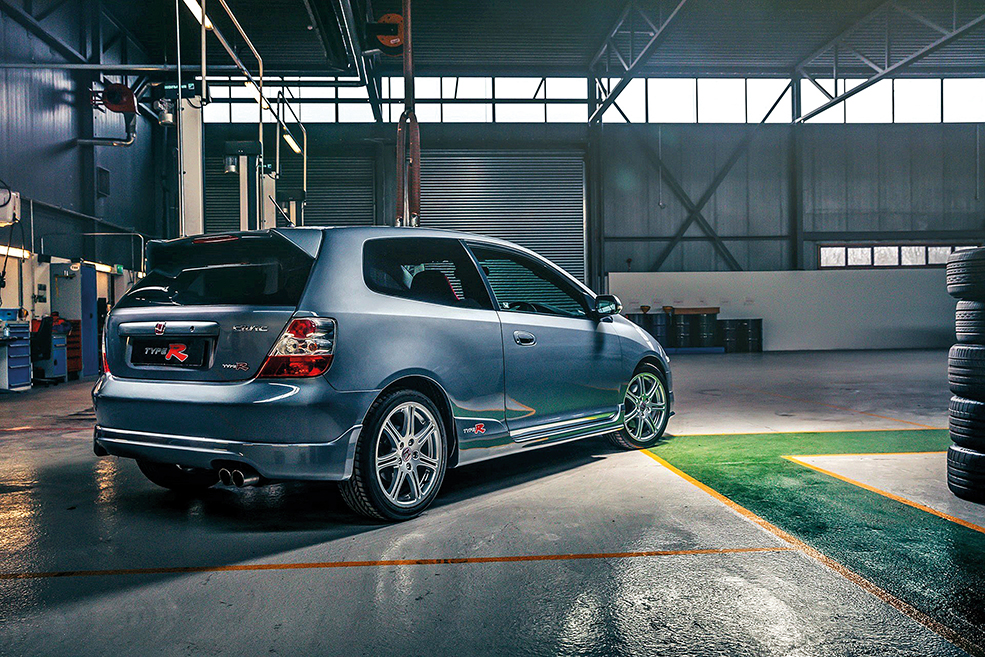 The EP3 was manufactured in Swindon and featured a 200hp 2.0-litre i-VTEC K20A2 motor. Marque experts will happily point out that Japanese EP3s featured LSDs, Championship White paint and Recaro seats, which UK models didn't have, although they were also built in Swindon… so any grey-import Japanese EP3 you find has actually been up the Suez Canal both ways!
Affectionately nicknamed 'bread van', the Honda Civic Type R EP3 was in production from 2001-2005, and the specs remained relatively unchanged throughout its lifespan. A mild facelift in 2004 brought in a lighter clutch and flywheel along with a redesigned front bumper and projector headlights.
The hysterically revvy K20 motor offered peak power of 200hp at 7400rpm; these aren't torquey motors, peaking at 139lb ft delivered at 5900rpm, but they really are all about the revs. The principle of VTEC is key to the Type R's character: a contracted acronym for Variable Valve Timing and Lift Electronic Control, the system works by offering two different camshaft profiles, and hydraulically shifting between them – the relatively economical profile is in operation up to 5500rpm, at which point the manic profile kicks in for higher lift and longer duration. In essence, this means that when you reach the point on the rev counter where, in other cars, you'd be thinking about shifting up a gear, a VTEC motor suddenly provides you with oodles more screaming, rampaging horses. In a nutshell, this means that the engine can be two things at once – juvenile, and grown-up: you can have a racy, track-ready cam profile without the inherent lumpy idle and poor economy if you're just pootling to the shops for a pint of milk.
The Premier Edition was an EP3 run-out special, sporting red Recaros, tinted windows and a leather Momo steering wheel. And in 2007, the FN2 Civic Type R arrived…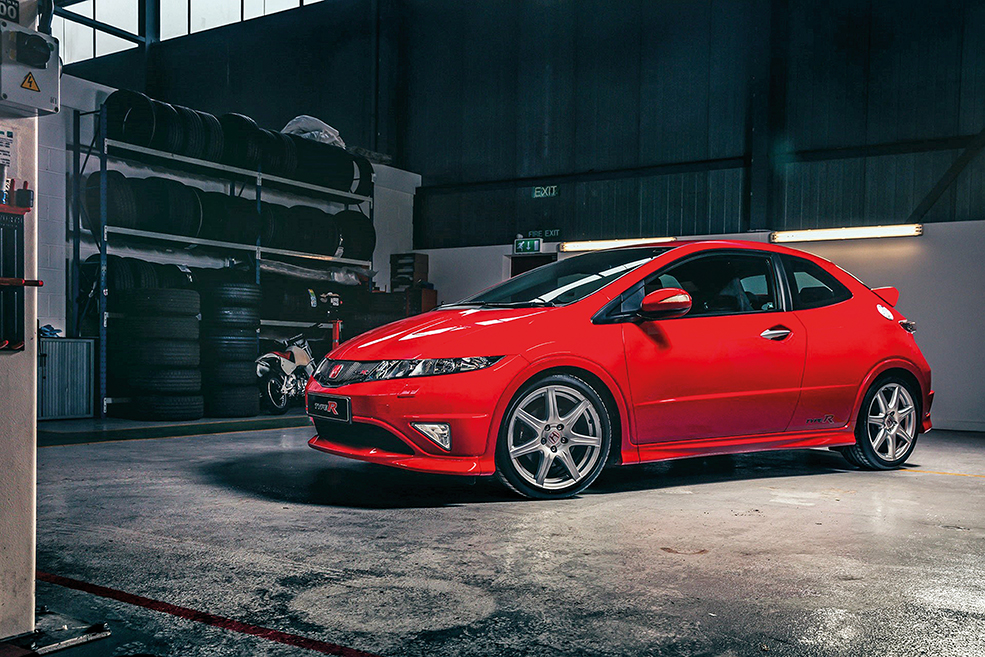 While looking dramatically different, the FN2 carries over a virtually identical engine and transmission from the EP3, although running at a slightly lower compression rate. Standard spec was decent, but opting for the GT spec added auto headlights, cruise control, rain-sensing wipers and a refrigerated glovebox. Purists in certain quarters were aghast that the FN2 offered no more power than the EP3, and replaced the older car's multi-link rear suspension with a simpler (read: cheaper) beam rear, but the same character remained and the shock of the faithful can be ignored – the FN2 is every bit as exciting as the EP3.
A facelift in 2008 brought in HID headlights with washers and improved sound deadening, and it's worth noting that cars built after March 2010 came with an LSD as standard. Notable special editions include 2008's Championship White Edition, which had an LSD and white wheels, and the rare Type R Mugen, with a raucous 240hp thanks to uprated pistons, cams and ECU, as well as model-specific body kit and suspension tweaks. This obscure special is not to be confused with the more mainstream Type R Mugen 200 from 2010, which mated the stock engine to Mugen styling, white paint and an limited-slip differential.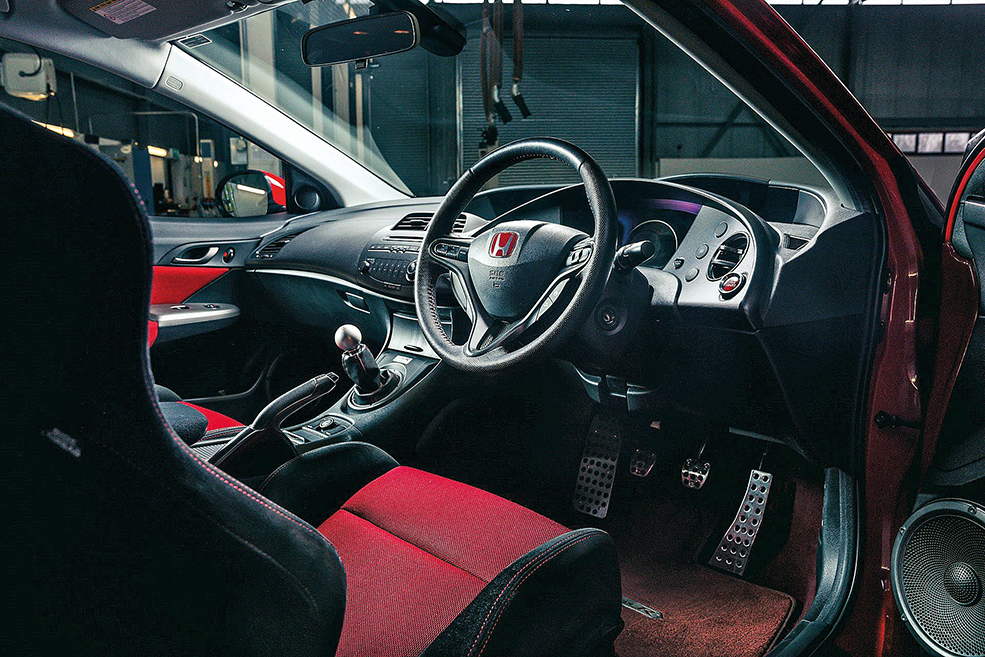 Our choice
We're split 50/50 on this one. While the EP3 and FN2 are fundamentally similar cars in their engineering and character, they each have distinct and disparate appeal. If we were to choose an EP3, it'd have to be the swansong special, the Premier Edition, in Cosmic Grey which was by far the most attractive colour for the bread van. FN2? We'd want to find a car that was built after March 2010 so that it had the factory LSD; it'd need to be in GT spec so it's got all the toys, and we'll take it finished in Milano Red.
What to pay for a Civic Type R
EP3s are on the rise, as they increasingly find themselves revered and pedestalised by the modern-classic community; it's still possible to pick them up for a couple of grand, but we'd seriously advise against it. These are specialist machines that require specialist care: while they're practical and usable enough to be driven every day, a true enthusiast will be checking the oil every week. So you ought to be paying a premium for the knowledge that a car's been enthusiast-owned: trustworthy EP3s start at £5000, with really good low-mileage Premier Editions getting as high as £9k. The entry point is similar for the more abundant FN2, with early cars also starting around £4000; LSD-equipped 2010 cars can be found from £6000, rising to £9500 for the very best. And if you're able to track down the obscure Type R Mugen 200, these tend to sell for between £14,000-18,000. A full-on Mugen Type R? Good luck finding one. Best bet? Around £40k.

Honda Civic Type R: What to look for
These engines can go on forever if properly maintained, they're fairly bulletproof in fast road driving and even in hard track use – but the key to keeping them ticking is to keep them regularly serviced. You've always got to keep an eye on the oil level! So when you're looking at a car with a K20 motor, be sure to fastidiously comb through the service history, and also have a good chat with the owner about how they've used and looked after the car. If they seem uninformed or disinterested, walk away; there are plenty of other cars on the market. The K20 does use a bit of oil, that's just a characteristic of the way they operate, so a conscientious owner will be keeping a regular eye on levels and topping it up with 5W30.
Timing chains can stretch and tensioners can fail in rare cases, and there's a random element here – you won't get a lot of warning that it's going to go, and it could happen at 80k miles or keep going beyond 150k… our advice would be that if you're buying one on 100k+ and the history doesn't show the work having been
done, put the job near the top of your to-do list – it's around a £600 job, and while you're in there you can check that the valve clearances are correct too.
Crunching from the gearbox as it goes into second gear is common, and it's not too much of a concern; do be wary of a heavy clutch though – they're light in operation, so a heavy one will need replacing soon.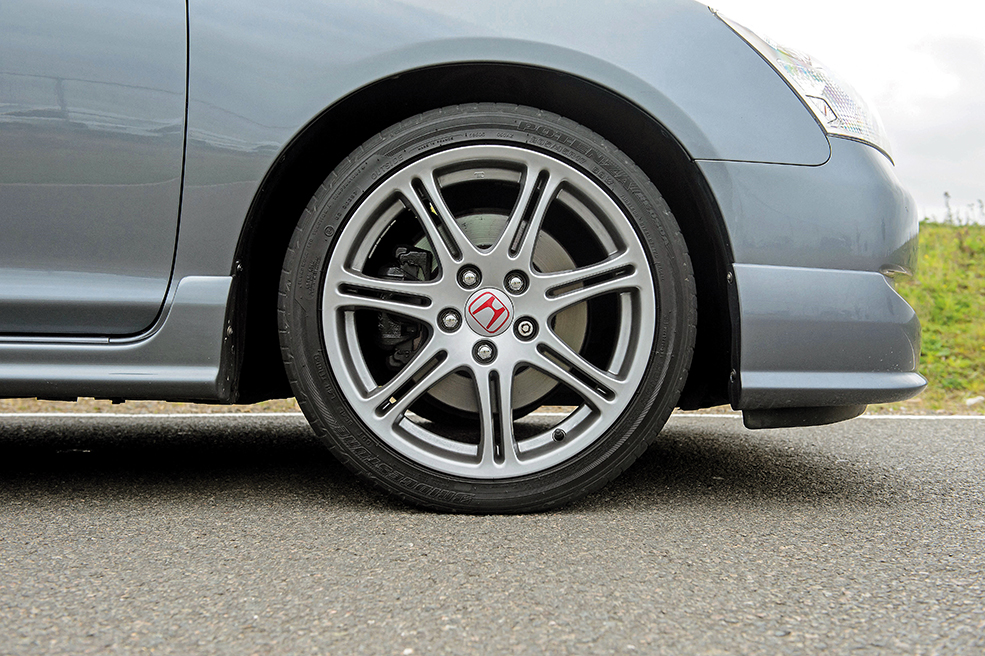 The steering rack on early pre-facelift EP3s is a bit of a weak spot, and you'll know if it's worn because the wheel won't self-centre properly and there'll be a creaking noise. Good used racks from later cars aren't hard to source, but it's an involved job to swap it in. The bodywork isn't particularly rust-prone, but don't be surprised if you find that the headlights have gone milky and the side skirts have come loose. With the FN2, the paint is soft so it's common to find a bonnet and front wings that are peppered with stone chips. The standard FN2 boot spoiler is something you'll just have to get used to, as it largely obscures your rear view.
Interior-wise, the EP3 can be a bit rattly as the dash plastics are quite cheap, but there aren't really any specific faults to look out for and you'll love the Touring Car-style position of the gearstick. The FN2's interior is in a whole other league, the split-level dash offering a digital speedo up top and a huge red rev counter down below. Worn seat bolsters are common, but otherwise, it's all generally hard-wearing.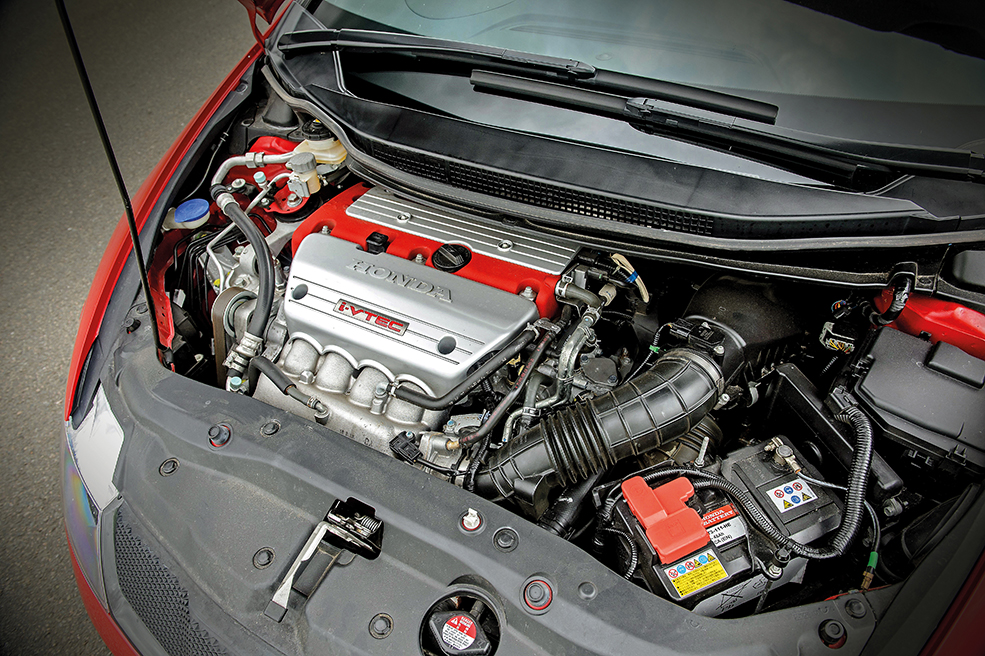 Honda Civic Type R Tuning (EP3 & FN2)
The K20's high-revving power delivery is great for track and fast-road driving, but if you want more of the power available more of the time you'll be wanting a remap. This, unfortunately, isn't as simple as it is in most cars, you can't just throw a map through the diagnostic port – you have to physically open up the ECU itself and solder in a Hondata piggyback ECU. This is specialist work and there aren't a lot of specialists who can do it right – we'd recommend CPL Racing or TDI North.
The advantage of remapping the K20 isn't in the peak power gain; on a stock motor you'll only achieve about 215hp. No, the point is to thicken up the mid-range power and to lower the VTEC crossover point. It imbues the car with a fresh sense of urgency – more usable power.
There are various induction options, one of the best being ITG's carbon-fibre Maxogen – it's not the cheapest at around £350, but the gains in terms of throttle response and sound are superb. Or if you want to go all-in, the HKS RSK (standing for 'Racing Suction Kit') is unbeatable but weighs in at a hefty £500. When it comes to exhausts, you get what you pay for. A Sportex system is a good starter for around £250, an M2 system is rather better quality for about £350, while a Buddy Club system is more desirable and well-toned at £600. Bear in mind that none of these will give you huge power gains though – exhaust-wise, a K20's gains are found in swapping the manifold; a £500 Tegiwa manifold will find you about 10hp before mapping or 15hp after. The FN2 has a totally differently shaped exhaust system with twin exits – for everyday thrills, go for a non-res Milltek cat-back (£750), or for raucous rally car mischief there's the supremely noisy Martelius option (£550).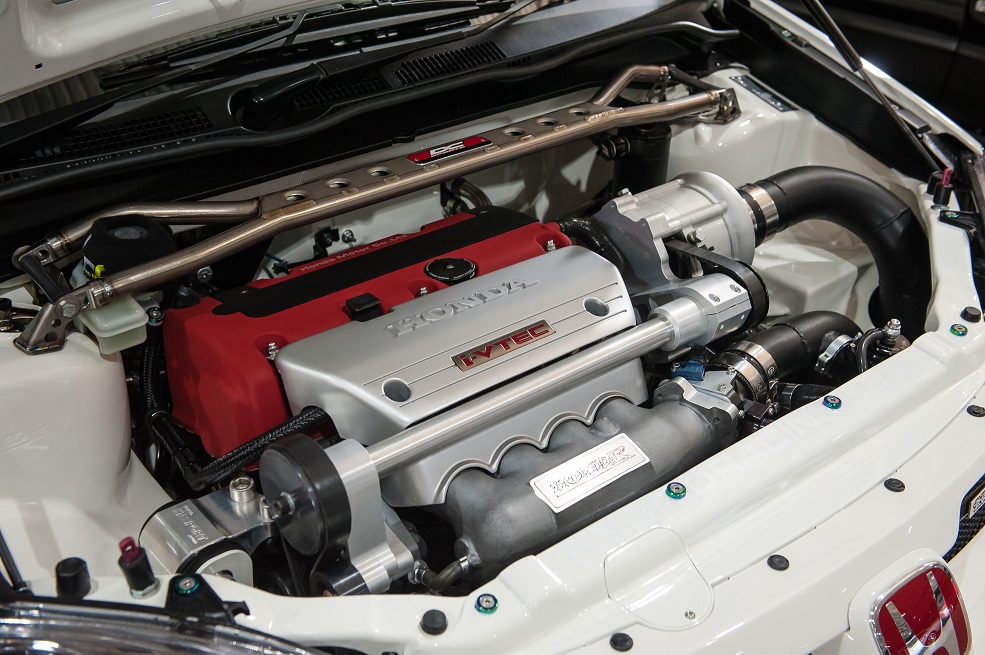 And if you've got deep pockets, you'll be pleased to learn that the K20 engine responds very well to supercharging! The combination of immediate low-down thrust and top-end VTEC transforms the Civic from a scrabbly terrier to an angry bulldog, and it's a tried-and-tested conversion that can be completed with total reliability. TTS Performance is a good company to talk to about this – OEM reliability is assured with its supercharger kits, which comprise a Rotrex supercharger, oil tank, injectors, plenum chamber, and everything else required. The parts-only price for the Sport kit is £2940 (giving 265hp), with further options of Supersport (£4252.50, 350hp) or Full Race (£4777.50, 500hp+).
Perhaps the most significant alteration you can make to an EP3 or FN2 is to dial in a fast-road chassis setup. Various settings are spoken of, but the common consensus is on 1° of negative camber all-round, 1mm toe-out at the front and 2mm toe-in at the rear. With the EP3 you'll be needing front camber bolts and rear camber arms for this; the FN2 has a different back end so use bolt-on camber shims. The EP3 can be transformed by the addition of a JDM rear anti-roll bar (£114), while the stock dampers work very well with Eibach Pro-Kit springs (£198). The FN2's dampers are notoriously creaky, which is all the impetus you need to swap in a set of coilovers from MeisterR (£879) or BC Racing (£899).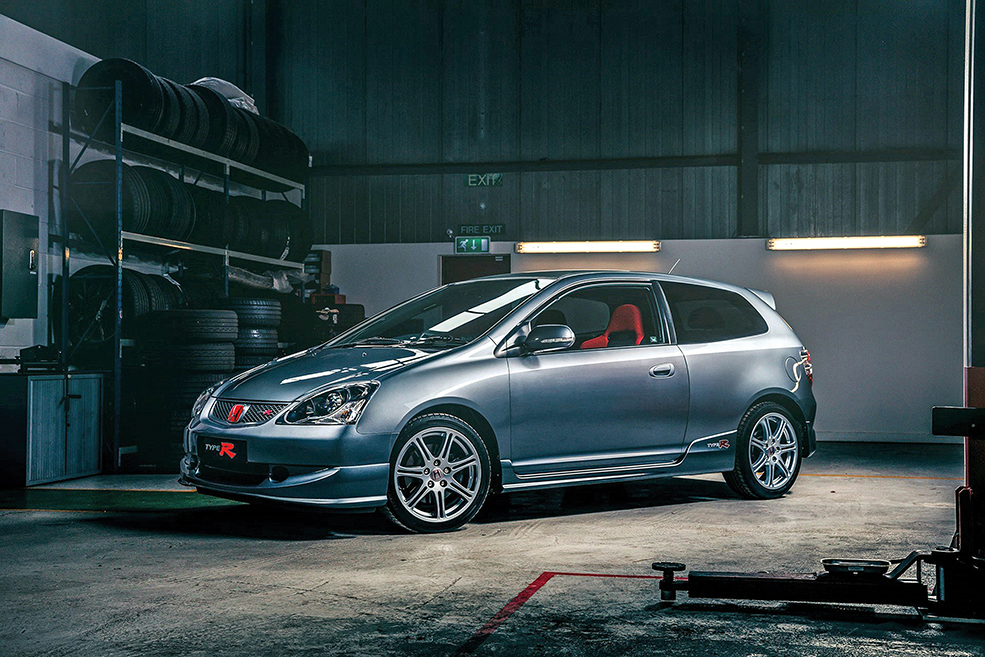 Honda Civic Type R Verdict
The father of 1000 internet memes, Honda's VTEC system is more than just a clever piece of valve timing, it's a lifestyle. Much like forced induction is addictive, and people who experience turbos or superchargers for the first time immediately get hooked on boost, so it is with VTEC: once you've held onto that steering wheel with white knuckles beyond 8000rpm, the howling motor sounding fit to explode and yet relentlessly goading you on, you'll never look back. VTEC is a drug. And it's never been more accessible than with the EP3 and FN2 Civics. These British-built hatchbacks wear their Japanese heritage with pride, combining exemplary engineering with robust build quality; outstanding driver's cars that are eminently usable and reliable. There's a massive aftermarket for them, with huge power available and all sorts of chassis tweaks to be played with, and the best part of all is how affordable these cars are to buy. Although that won't be the case for long – the Honda Civic Type R EP3 in particular is becoming a bit of a cult classic…