Ford aficionado Graham Robson tells us what he deems to be the best Ford hot hatches of all time and why.
Feature from Fast Ford. Words: Graham Robson
What is a hot hatch?
Tradition dictates it's a car based on the three-door version of a mass-market family model; always with a more powerful and often larger engine, with modified transmission, suspension and other chassis upgrades to make it a more sporting package. Some style changes, a specialised interior involving better (usually Recaro!) seating and more instrument displays, sometimes with added spoilers and splitters, but with no major changes to the basic structure.
Faster, more capable, but inevitably more costly that the normal hatchbacks on which it was based. Basically, it's like the manufacturer has taken one of their base models and pre-modified it for us petrolheads.
Now's the time, then, to run briskly through the best Ford hot hatches, seeing where it started, and how it evolved. I'm going to take a chance here, and list my personal choice of the 'best of the best' we have all seen, driven, and lusted after, in the last forty years.
Nothing New
As far as Ford UK is concerned, this best Ford hot hatches of all time story really started with the original Escort XR3 of 1980, but first I should fill in the back story. The recipe for hotting-up standard models all began when the twin-cam engined Lotus-Cortina was launched in 1963. That was swiftly followed by the Escort Twin-Cam, the Escort RS1600, the first of the RS2000s, and of course the fastest of the Capris. But there were no Ford-badged 'hot hatchbacks' at first, simply because Ford did not build a hatchback of any type until the Mk1 Fiesta appeared in 1976 – I don't count the Mk2 and Mk3 Capri here, as they were coupes; more 'sports' than 'family'. My survey, therefore, starts with the Escort Mk3.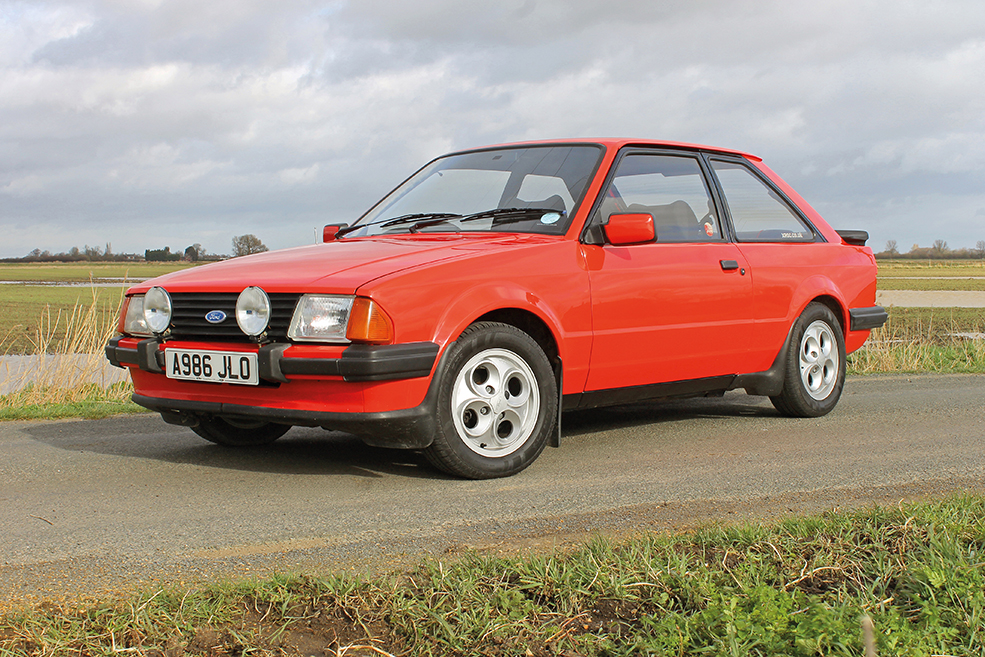 The best Ford hot hatches | Enter the XRs
At the height of their marketing powers, Ford astonished (and disappointed) all of us by abandoning the prestigious RS badge in 1980; a move which coincided with the dropping of the rear-drive Escort. To replace it, the XR suffix was introduced… and was an enormous success.
My original hot-hatch favourites, however, came along within two years; the cheeky original Fiesta XR2, and the fuel-injected Escort XR3i. Even though the Fiesta only had an 84bhp crossflow engine and a four-speed gearbox, it handled well, looked cute and somehow was very loveable.
Features like the alloy wheels, the extrovert styling (XR2s had round headlamps before any other European-market Fiesta, plus the chunky wheel arch extensions), and the 104mph top speed were all much-loved.
The four-speed gearbox and the rather cheap-and-cheerful cabin fitments took the edge away, however. But don't knock it, as in many ways it still felt purer than the facelifted car which would follow in 1984 – even though the later car had a CVH overhead-cam engine and a five-speed transmission.
I also enjoyed several XR3is over several years in the 1980s, but never managed to get my hands on an Escort RS1600i. Did I miss something? I wonder.
Although the suspension of that car had been carefully re-worked by Ford Motorsport in Germany and boasted several visual changes to make it even more attractive, it really wasn't any quicker than an XR3i. It cost a lot more to buy (£6,700 instead of £6,030, as I recall), and many enthusiasts now say that despite the lack of motorsport pedigree, the SVE-developed XR was actually the better car.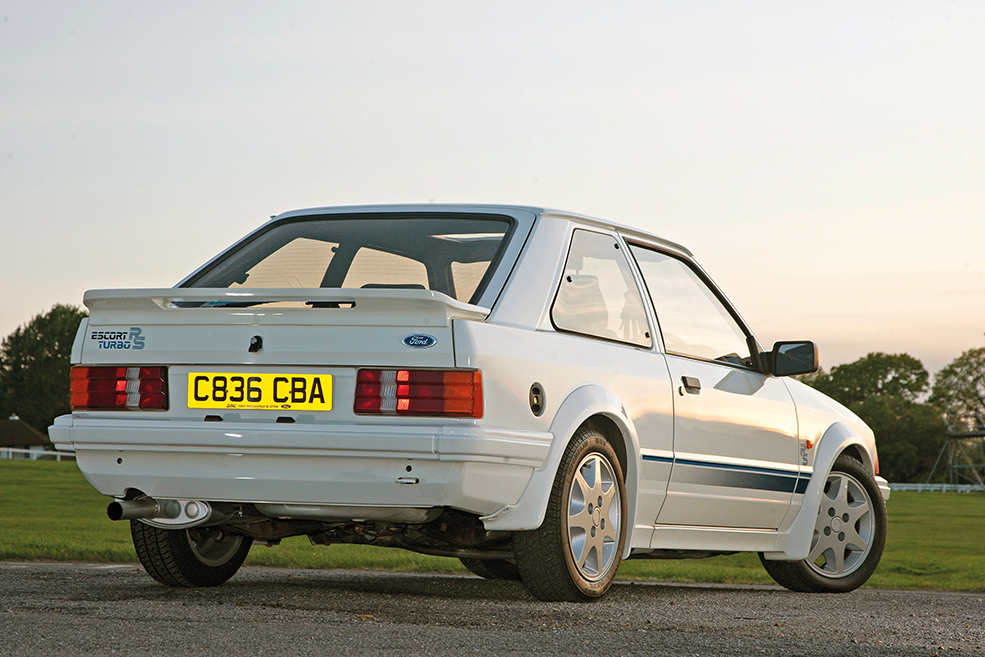 Adding a Turbo
At the time, in any case, I had fallen deeply and lastingly, in love with the first of the Escort RS Turbos. As a privileged insider, I had driven prototypes in 1983 and saw Boreham do its best to turn them into rally cars in 1985; I made haste to buy one as soon as I could. When I added one to the Robson family fleet, at first my wife couldn't understand what all the fuss was about, until I urged her to try using more than 4000rpm… and then she understood!
It could do more than 100mph at any opportunity and had all the RS1600i chassis tweaks as standard. It handled like a go-kart, and was kitted-out with the Recaro seats and all the usual cabin goodies. What more could I want?
'Cos he's worth it
Not much more, I thought (especially as I was being loaned Group B RS200s by Boreham to use on the road at this time). But then I met the Sierra RS Cosworth.
Yes, that's right, the 5000-off three-door, complete with the whale tail visuals. The looks were backed up with more than 200bhp under the bonnet, and a near-150mph top speed. Not only that, but it combined the turbocharged Cosworth YB engine with remarkably supple handling, and you could (I did!) use it in all traffic conditions without any problems at all.
The trouble was that all the world's criminal classes loved to steal them, given half a chance. I was lucky, and soon managed to put up with all the mindless comments from know-nothings asking of the rear wing was just there for fun.
That was the original and legendary version – not just because it delivered everything promised, but the fact that it only cost £15,950 when new in 1986 meant it brought supercar performance to the working classes. The world-beating RS500 versions in touring car racing (especially the Eggenberger-built ones) turned me into a Sierra fan for life.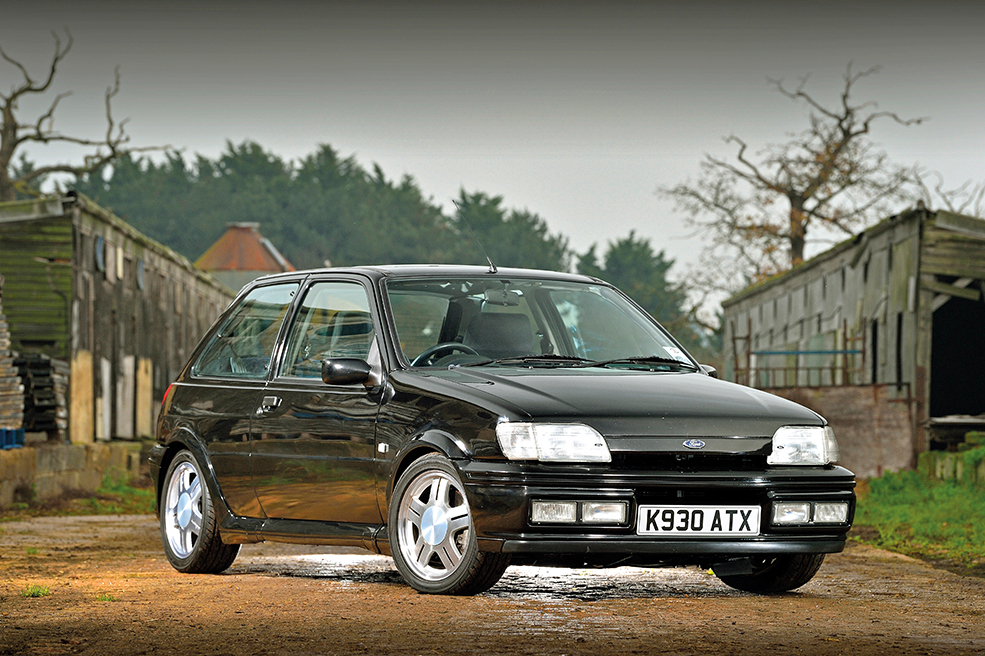 Ford's greatest hot hatches: Fast Fiestas
But even the all-dominant RS500s had to come to an end, and this was about the time that Ford rejuvenated that oh-so-successful XR2 pedigree too. There was an all-new set of styles to promote from the end of 1989, which saw the introduction of the extrovert Fiesta RS Turbo.
Although it used the same basic package as the Escort RS Turbo, the chassis didn't seem to be as well resolved; the clientele didn't like it very much, and the insurance companies just hated it.
In 1992 Ford hastened to replace it by the Fiesta RS1800, which wasn't really what many fans consider 'a proper RS' model, but had replaced the old CVH turbo package by a brand-new 1.8-litre 16-valve Zetec unit that produced just as much power but in a more civilised manner.
The RS1800 was my personal choice as the best Fiesta Ford hot hatches, but unfortunately neither the buying public nor the cynical insurance providers seem to have agreed.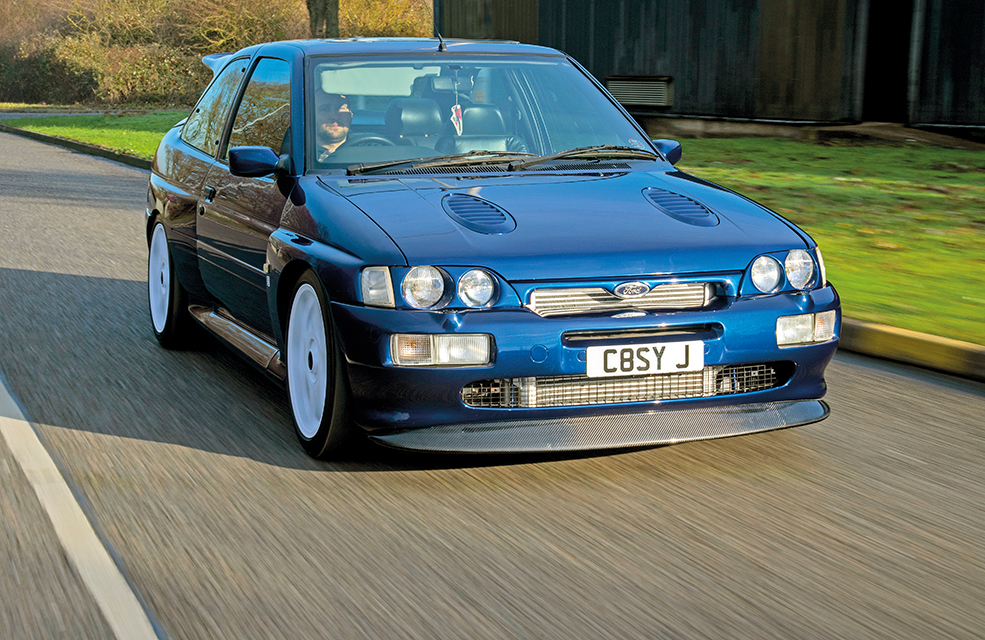 Exciting Escorts
Which brings me neatly on to the Escort Mk5 period of the early 1990s; there were years when lust got the better of me, and I not only had a MK5 Escort RS2000 in the garage, but an Escort RS Cosworth alongside it too.
My wife used the RS2000 much more than I did, though we both loved the 125mph performance which that torquey DOHC engine could deliver. We also loved the way it handled, and that it was versatile in any sort of family-car requirement too.
I was, of course, totally smitten by my Escort RS Cosworths; I had two in the mid-1990s, both of them in that lovely lustrous metallic dark green, officially titled 'Mallard', but known by every insider at Ford as 'British Racing Duck'…
I loved them not only because they were fast, with remarkable four-wheel-drive handling (their ancestry was connected with the Sierra Cosworth 4×4), and had an amazingly comfortable and completely-equipped interior. Plus, of course, because that extrovert rear wing made them instant conversation-starters wherever I went.
Unhappily, so did car thieves, who liked to steal every single one which was left unattended. Fortunately, Ford had fitted a cheap-and-cheerful (Vecta) immobilising system to mine, which meant the car would not start without the appropriate key. I had cause to bless this once when, after spending the night in a motel before working as a commentator on the RAC rally, the following morning I found my car in the car park with its driver's door swinging in the breeze… but still unable to be driven away.
Repairs to the mangled door lock were quick and simple to achieve. Until a succession of Focus RSs came along, the Escort RS Cosworth was my favourite of the best Ford hot hatches.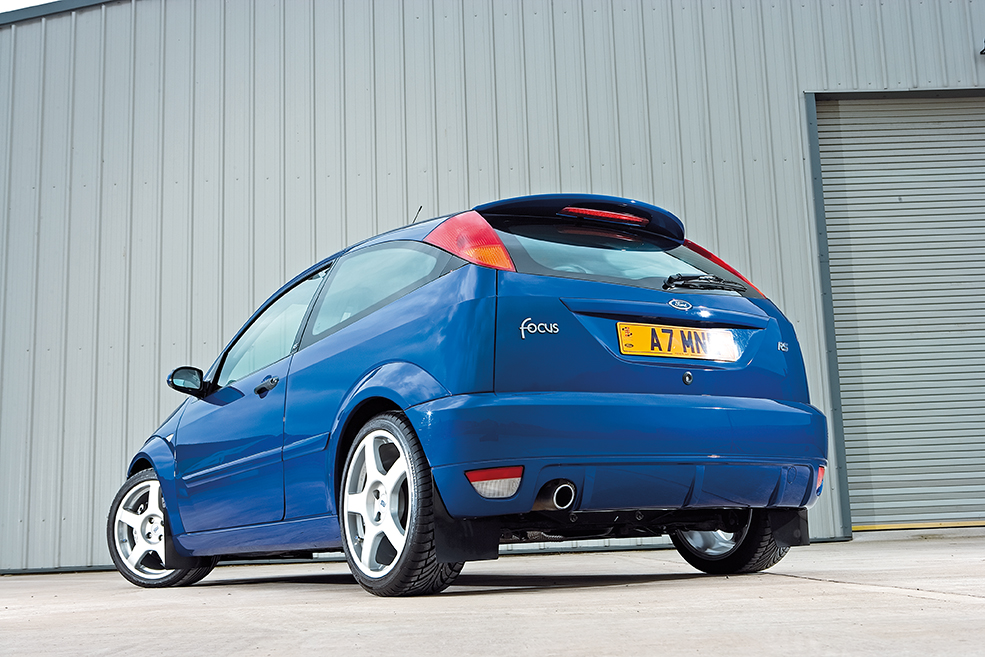 The best Ford hot hatches | Next Generation
These RS types started rather modestly in 2002 with the Mk1; only 4,501 were built at the Saarlouis factory in Germany. Ford rated the 2.0-litre Duratec engine at 212bhp, which delivered a 143mph top speed, all the production cars were in iconic Blue. This, together with the subtle three-door styling, made them very desirable.
But Ford was not complacent, so after the second generation Focus was launched, the Focus RS Mk2 was developed. Every one had 300bhp 2.5-litre five-cylinder engines (as manufactured by Volvo; a company owned by Ford at that time). You could have any colour you liked so long as it was white, blue, or a rather violent green. And it had all the character of a well-detailed thug.
A green example came into the Robson family in 2009, and remains so to this day, although now with the RS500-type/345bhp Mountune upgrade to the engine.
I thought I would prefer the later Focus RS Mk3 to either of these – the media gave it rave reviews (and so did the customers), but once I studied a show chassis laid out in Ford-UK Technical HQ at Dunton and rather shuddered at the complexity of it all; I decided that I would still take my family's chances with 'the green thug'.
Latest Releases
And finally, of course, I really ought to survey what Ford has been doing recently to put some excitement back into their Fiesta and Focus ranges. Simultaneously, as the Focus RS pedigree moved further and more expensively up market, Uncle Henry invented the ST range (almost a re-creation of the XR, perhaps?) – cars which were almost as fast if less powerful, a bit less extreme in engineering terms, and (importantly) less expensive.
Focuses started with the ST170 and ended up with the Mk4 ST that has a 2.3-litre, 276bhp EcoBoost engine and a 155mph top speed, which almost puts it in to the now-retired Mk3 Focus RS ballpark.
It's a great car, which Fast Ford readers have no doubt already discovered, but in some ways the latest Fiesta ST is even better. There have been several earlier types, all of which have provided a great base for today's machine. And like all proper fast Fords should, the latest Fiesta loves a bit of performance tuning; simple upgrades see the little 1.5-litre three-cylinder produce around 230-240bhp, making the new Fiesta ST as fast as the Focus RS Mk1 ever was.
And that, so far, is the way in which Ford's hot hatch history has developed in forty years. How long? Oh yes; all the way from 1980 when the original XR3 hit the showrooms, and when we thought that 95bhp and front-wheel-drive sounded promising; hot hatches have come a long way.
On a parting note, am I allowed to choose my personal favourite from the best Ford hot hatches of all time? In which case, it would still be the Focus RS Mk2; the 'green thug' that has been with the family for ten years. But one day, who knows…?
Source