If you like your Japanese metal, chances are this isn't the first time you've seen this monster of an R35. Built by Smokey Nagata, welcome to the Top Secret Nissan GT-R.
Words and photos: Steve McCann
Of all the Japanese tuning houses, Top Secret is perhaps the most mythical of them all. Headed by aftermarket icon Smokey Nagata, it's a brand famous for its gold liveries and daring escapades – such as that infamous Toyota Supra speed run that got Smokey locked up behind British bars.
As a result, anything produced by these guys gets a lot of attention, but this 1100bhp Top Secret Nissan GT-R grabbed the headlines in 2013 when it won the Nardo High Speed Challenge with an outrageous record of 377.242kph. Yes, that's exactly 234.407mph! But, while we all dream of owning a true super-modified supercar like this, Lewis Petrie is the lucky man who made the fantasy a reality. Just how the hell did he pull this off?
"Well, it started off as a tongue in cheek suggestion and just ended up as a real opportunity" says Lewis. "But this isn't a car you can just turn up and buy. It was more of an invitation I was honoured to accept."
This may seem a bit strange to us in the UK, but in Japan it's not just money that talks. Cars are viewed more personally and many will not sell a car unless they approve of the buyer. Only after years of building a high-spec R34 GT-R with a host of Top Secret parts and visiting Japan several times was Lewis considered worthy of this responsibility.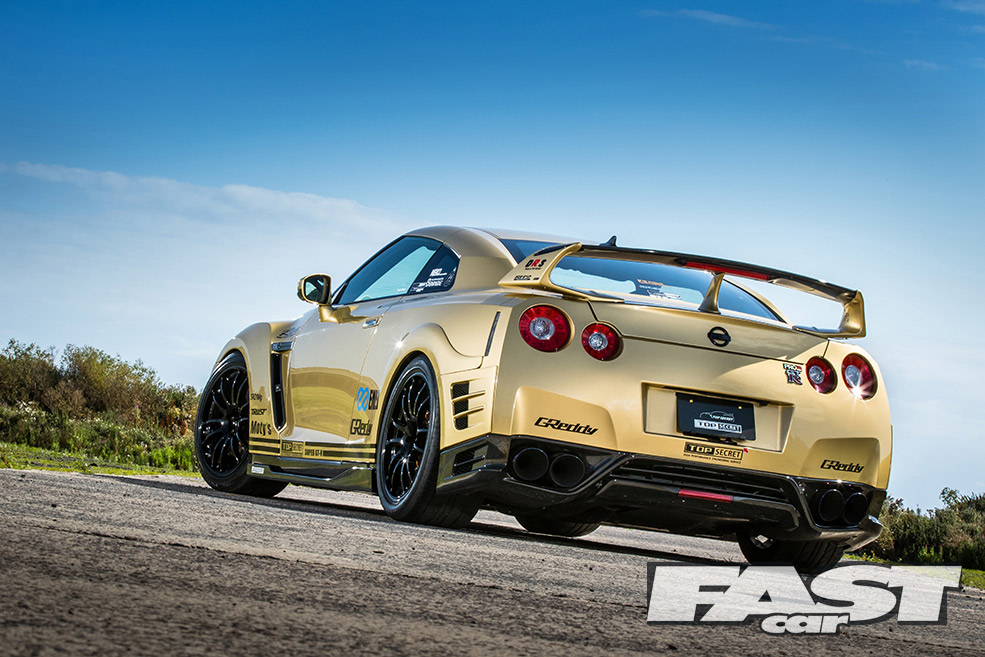 Given that this R35 is a Top Secret demo car, the finer details of the build are, well, top secret! We do know the GT-R was built to a mighty spec by Smokey to serve as his own personal vehicle, and that naturally included taking it on track and displaying it at shows. This meant pushing the limits in every possible area, testing and fitting Top Secret custom parts everywhere along with the best kit from HKS and GReddy.
As that Nardo record suggests, the priority for this build was top speed, so as well as the extensive engine work, the transmission was heavily modified along with the chassis to cope with such insane velocities. As well as the outright performance mods, this Top Secret Nissan GT-R is literally covered in carbon fibre with a stunning aero package.
The most iconic change though is the colour, as the unique gold paint job is reserved only for Top Secret demo cars. It lets you know immediately this is a genuine TS car, and therefore something extremely special.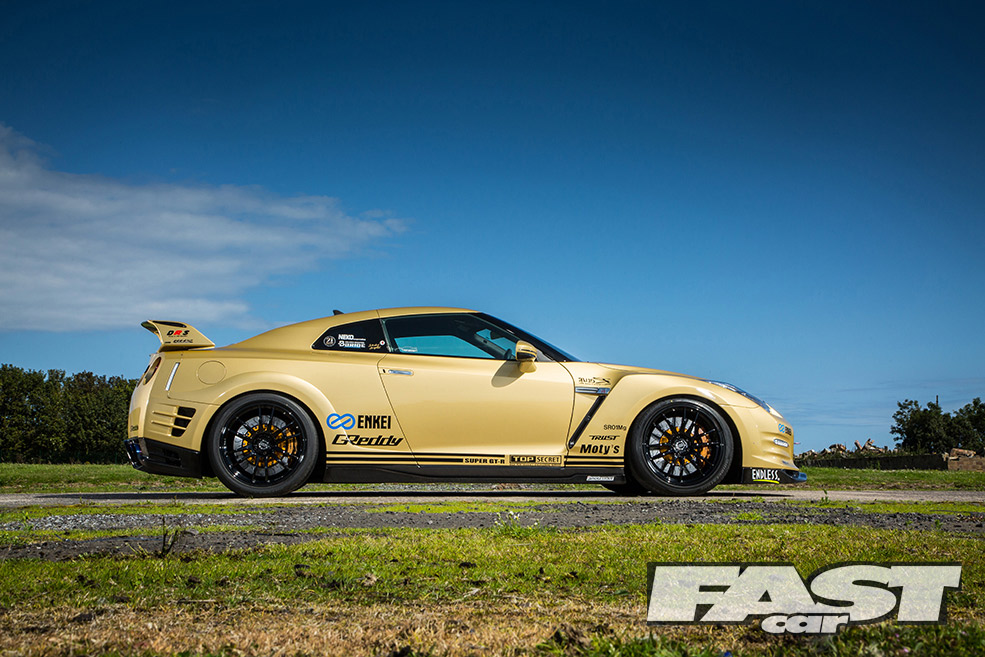 Considering the no-nonsense savagery of this car's internal workings, the cabin is surprisingly sensible – not stripped out as you may expect. There's no roll cage, the back seats still remain, and it even has carpets! Although, maybe 'normal' isn't the best way to describe it, as Bride seats, Takata harnesses, a Top Secret steering wheel and lashings of custom carbon dominate the interior's visuals. Nevertheless, it has a real cosy cockpit feel and you get the impression it would be a comfortable, relaxing place to be while soaring past the 200mph barrier, as you do.
Elsewhere on the car, the closer you look, the more you find. Such as the hidden tow hooks. This clever design allows them to fold in behind the front bumper and rear number plate to keep the car looking as clean as possible.
Also, the rear spoiler has a DRS system where hitting the brake pedal automatically adjusts the blade angle, acting as an air brake to create more drag and downforce. Really, the level of detail inside and out is staggering and overall makes this such an incredible piece of kit.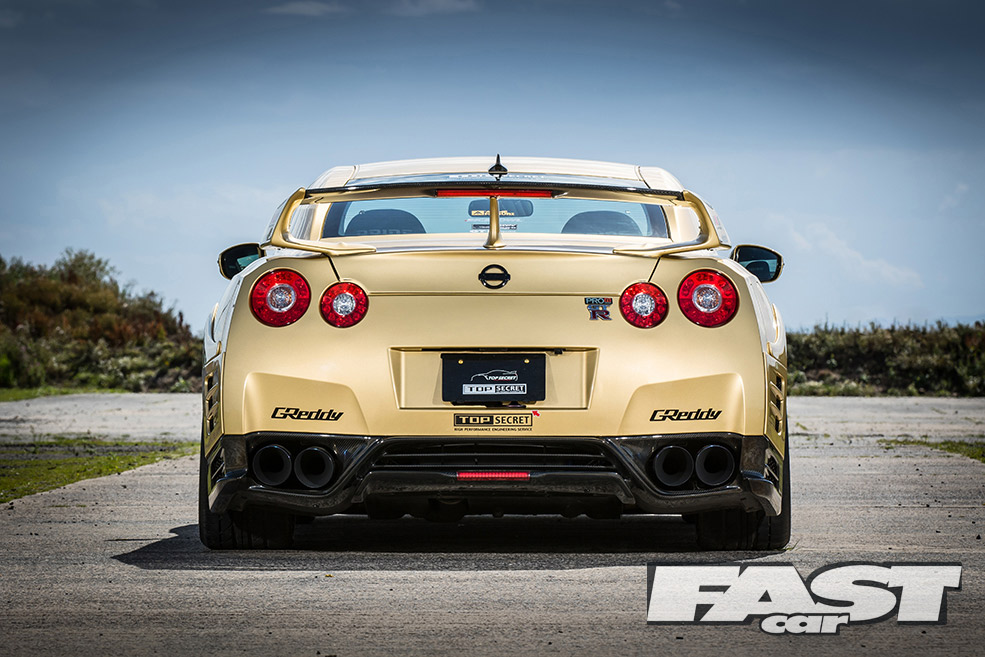 Lewis has no plans to change anything about this Top Secret Nissan GT-R. He still feels like it's Smokey's car and that his job is simply to look after it. If anything, he may alter the mapping as it's been de-tuned to around 900bhp for road use. Because of course, 900bhp just simply isn't enough…
The level of respect that Lewis has for this R35 is clear, and proves he is the right man for the job. Smokey and Top Secret chose wisely!
OWNER: LEWIS PETRIE
TECH SPEC: Top Secret Nissan GT-R R35
STYLING:
Top Secret G-Effect aero system package; Top Secret front bumper; Top Secret carbon DRS spoiler; Top Secret carbon boot; Top Secret over fender; Top Secret carbon sideskirts; Top Secret carbon wings (front); Top Secret carbon bonnet; hidden tow hooks.
TUNING:
Top Secret built engine – VR38 RX 4L GReddy Engine Stroker Kit internals; HKS camshaft; HKS valve springs; HKS head gasket; TD06-25G turbo set; Top Secret ti manifold and front pipe; Top Secret exhaust system TV-Pro; Top Secret intercooler system; GReddy intake piping; GReddy ECU; HKS boost controller; GReddy fuel delivery system; Top Secret surge can system; GReddy DCT cooler.
TRANSMISSION:
Kansai Service differential; Ogura clutch; Top Secret uprated gearbox internals; uprated 2-5th gear, High Speed 6th gear set for top speed runs; NEKO final drive kit; over 1,100+ bhp with 1,200Nm torque now de-tuned to 900bhp with 950Nm torque (at wheels).
CHASSIS:
Top Secret TSS coilover set; Swift spring set; Brembo brake callipers; Top Secret brake disks; Endless brake pads, Top Secret strut braces; Top Secret suspension arms; Enkei SR01MG 10x20in (front) and 11x20in (rear) wheels; Bridgestone Potenza 255/40×20 (front), 295/35×20 (rear) tyres.
INTERIOR:
Bride Zeta seats; Takata harnesses; Top Secret steering wheel; Top Secret mat set; Top Secret gearknob; GReddy 2.5 bar gauge; Top Secret custom carbon dash; door cards and centre console.
THANKS:
Jurgen at JM Imports; Dave at DMC Performance; Kenneth Blank, Jamie, Johnny, Top Secret and,
of course, Smokey Nagata!